2007-12 Toyota Tundra Truck Bed Bolt Rust / Corrosion – TSB
Tim Esterdahl | Oct 17, 2012 | Comments 4
Do you own a 2007-2012 Toyota Tundra? Do you notice any rust on the attachment bolts and washers on your truck bed? If you do, then you may want to contact the service department at your local Toyota dealer for a replacement.
In an August 2012 Technical Service Bulletin (T-SB-0140-12), dealers were notified that the truck bed attachment bolts and washers could rust on the Toyota Tundra trucks built during this time. Toyota has produced a solution to this problem that requires the replacement of the truck bed bolts with washers.
This TSB affects all 2007-2009 TMMI and 2007-2007 TMMTX built vehicles. For the 2012 TMMTX built vehicles, only ones produced before the Production Change Effective are included.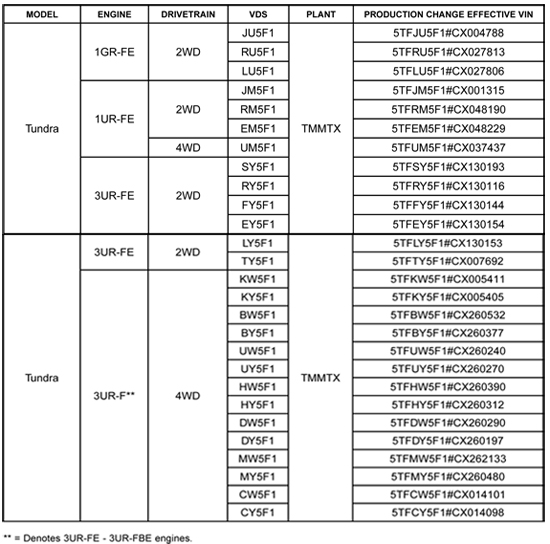 Here is the TSB process:
Step 1: Check the following vehicle identification numbers for the 2012 TMMTX built vehicles: JU5F1, RU5F1, LU5F1, JM5F1, RM5F1, EM5F1, UM5F1, SY5F1, RY5F1, FY5F1, EY5F1, LY5F1, TY5F1, KW5F1, KY5F1, BW5F1, BY5F1, UW5F1, UY5F1, HW5F1, HY5F1, DW5F1, DY5F1, MW5F1, MY5F1, CW5F1, and CY5F1. These vehicles are both two and four-wheel drive.
Step 2: The replacement part number for the truck bed bolts with washers is 90119-A0226. You will need 6 bolts for a 5.5 ft and 6.5 ft bed, and you will need 8 bolts for an 8.1 ft bed. These truck bed bolts can only be used once. So, if they are replaced but then removed for any reason, they must be replaced again.
Step 3: Confirm that there is rust or corrosion on the truck bed bolts or washers.
Step 4: Remove and replace all truck bed bolts and washers.
This replacement is covered under the Toyota Basic Warranty for 36 months or 36,000 miles, whichever comes first, and only applies to the rusting of the truck bed bolts and washers.
Give your local Toyota dealer a call if you have a vehicle with these specifications. You can even provide them with the part number to make sure the replacement is in stock. Set up an appointment to have the replacement done.
Related Posts:
Filed Under: Tundra Recalls
Comments (4)