2014 Toyota Tundra Speaker Installation Guide
Jason Lancaster | Nov 13, 2014 | Comments 2
Looking to upgrade or replace your Tundra's factory door speakers? Well, if you've got speakers, follow these simple steps to ensure you remove your OEM components and install you're new upgrades correctly.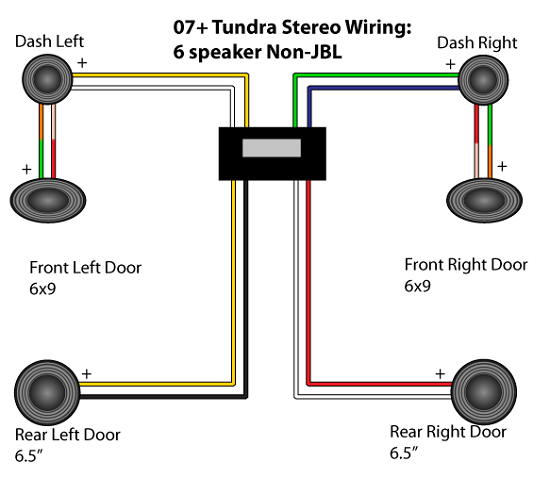 What You'll Need:
Phillips head screw driver
A safe place to put loose hardware
Step 1:
Remove the sail panel from the top of the door panel with your hands. It's best to pop the top corner off first to ensure clean removal.
NOTE: if a plastic clip remains lodged in the door, make sure it's taken out of the door and put back in sail panel. If you leave the plastic lodged in the door you will lose the piece when you try to put the sail panel back in place.
Step 2:
Using a small Phillips head screwdriver, remove the beauty panel located behind the interior door lever. Once removed, remove the screw using the same Phillips head screwdriver.
Step 3:
Remove the panel located within the door handle, and then remove the screw located underneath it.
Step 4:
Using your hands, remove the panel that hosts your master window controls.
Step 5:
Remove the wiring harness from the window control panel. If you can't release the harness using your hands, use a screwdriver to depress the plastic clips.
Step 6:
Locate the retainer at the front of the door panel and gently press it in with your screwdriver until you hear it click. Once you hear it click, the retainer can be removed easily with a screwdriver.
Step 7:
Using your hands, remove the entire door panel starting the bottom right-hand side, and work your way up and around the door. Once the panel is detached, locate and remove the door lever and lock cables.
NOTE: the cables will pop out fairly easily, but be careful not to bend them. If needed, rest the door panel on a prop or have someone hold the panel for you to enable the use of both hands.
Step 8:
Now that the panel is removed, locate the four screw holding the speaker in place. Unscrew one screw, and then detach the small wiring harness from the speaker. Once removed, unscrew the remaining screws, lift up on the speaker, and then guide it down to release it.
Step 9:
Place new speaker in the designated area, reinstall the four screws and plug in the speaker's wiring harness. Once the new speaker is in place, follow through the removal process in reverse order.
You're all done. Now you can enjoy the open road with crisp music. If you installed aftermarket speakers, be sure to save your OEM speakers incase you need of a backup later down the road.
Search terms people used to find this page:
https://tundraheadquarters com/toyota-tundra-speaker-installation/
Filed Under: Toyota Tundra Accessories
Comments (2)