Toyota Tundra Lift Kit Review: Low Range Off Road 3″ Lift Kit
Jason Lancaster | May 14, 2008 | Comments 116
Low Range Off Road, based in Utah, recently began offering a 3″ leveling lift kit for the 07+ Tundra. This is in addition to offering lift kits for the older body style Tundra, the Tacoma, the FJ, and soon the Land Cruiser. Their kit is very similar to the Truxxx 3″ lift kit we reviewed a few months ago – they both lift the front of the truck 3″ and then level it out by adding a 1″ block in the back. The Low Range Off Road kit is easy to install, high quality, and for reasons we'll dive into further, we recommend the Low Range Off Road 3″ lift kit over the Truxxx 3″ lift kit.
Low Range Off Road's kit installed on a 2007 Tundra. Note the level roof line and even front and rear fender gaps.
Starting with the kit itself, we were amazed at the parts quality. While most of the after-market parts we've reviewed have been good, the quality of this kit is second to none. Low Range used CNC machined 6061 aluminum for all their spacers – mirroring the ToyTec lift kit we reviewed last year. Aluminum is the logical choice for making a spacer. It's incredibly strong, it's light weight, and it's impervious to corrosion. This is one of the main reasons we like the Low Range kit over the Truxxx kit (which is made from powder coated steel). Aluminum is the best material, and we don't think you should settle for anything less – especially considering just how inexpensive these kits are becoming.
Close-up of the Low Range Off Road kit front spacer.
The Low Range kit also has precision machining – when you hold the front spacer in your hand, it seems more like something NASA would use than something you install in a pickup. The tolerances are close, the machining looks top notch, and all the parts (like the nuts and bolts) are OEM quality. There's nothing cheap about this kit. Low Range did something else very smart when they designed this kit – they used metric sized nuts and bolts (just like you have on your truck). It's nice not having to switch between metric and English when you're working, so Low Range gets a gold star for that one. Low Range also included a nice set of bolts for your skid plate that don't fall out of the plate when they're loose – a nice touch.
Because Low Range used aluminum to make their kit, they were able to include a 3.5 degree taper on the rear blocks. While the angle is very slight, it has the benefit of restoring the factory driveline angle and reducing driveline vibrations. This level of precision isn't available without using CNC machining, yet another reason to go with aluminum over steel.
Take a look at the front fender gap before (left) and after (right) we installed the kit.
The Low Range kit lifted the front of our test truck exactly 3″ and the back about 1″ (see before and after photos). The truck is level, an inch higher, and according to Low Range it can now accommodate tires as tall as 33″. As we've said before, we suspect you might be able to go bigger. In addition to the front and rear spacers, the kit also includes a 1″ differential drop kit to restore the angle of the front axles and ball joints to factory spec.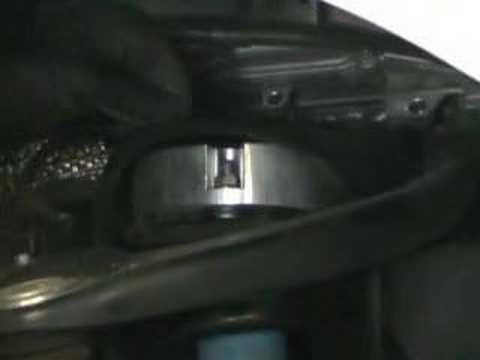 Check out the installation video and our new animated logo.
Installing the Low Range kit is very similar to installing the Truxxx kit – the toughest part is getting everything to go back together. Because the strut is a couple inches longer with the spacer attached, there's a lot of prying involved to get all the bolts back in. It's a lot of work, and if you're not careful, it's a great way to get hurt. If you're going to do this install yourself, see if you can talk someone into coming over and helping you out (at least when it's time to get the strut back in). It will save you time and frustration. At least Low Range provides a great set of instructions (13mb pdf) to make installation simpler. Truxxx and ToyTec would do well to copy the instructions Low Range includes with their kit, as they're full color and they include lots of useful photos.
See the shiny aluminum spacer in the picture in the left, and the shiny aluminum blocks in the picture on the right? That's all you've got to do.
Once again, we're faced with discussing the positives and negatives of using an above-coil spacer lift kit (like Low Range and Truxxx) vs. using an in-coil spacer lift kit (like ToyTec). We're not going to dive into this argument here (it's going to be another post), but suffice to say there's no evidence that one design is clearly superior to the other (just a lot of opinions). As long as you install the included differential drop kit, your CV and ball joint angles will stay within acceptable limits and your truck's warranty won't be endangered in any way.
The pricing of the Low Range kit is reasonable – $299 for front and rear spacers, a differential drop kit, and all the hardware is pretty competitive. Truxxx still lists their steel kit for $367 on their website, which is ridiculous when you compare the quality and materials of the two kits. We suspect that since the TireRack is now selling the Truxxx kit for less than $300, Truxxx will follow suit on their website.
Having said that, even if the Truxxx kit was $250 we'd still recommend the Low Range Off Road kit instead. The quality is much nicer, and spending $50 more for aluminum makes sense when you consider the rust factor. There's also the fact that most home mechanics will appreciate Low Range's better instructions and metric bolts. Finally, Low Range Off Road offers a lifetime warranty on their parts – you can't beat that.
For a limited time, Low Range Off Road has agreed to waive shipping charges for anyone in the continental U.S. as long as you mention TundraHeadquaters.com when you order. If you're outside the continental U.S., they'll reduce your shipping accordingly when you mention the website.
Bottom Line: Low Range Off Road's 3″ lift kit for the Toyota Tundra is top notch – high quality machined aluminum, a well thought-out design that includes a lot of nice touches, and well written directions. The price is competitive, and installing the kit is simple enough for a home mechanic to tackle. We recommend the Low Range Off Road kit over the Truxxx kit because of the higher quality and lower list price.
.
Low Range Off Road Lift Kit Specs:
Dimensions: 3″of lift in the front, just about 1″ of lift in the rear.
Install Time: A competent mechanic can install this kit in 1 to 2 hours. Expect a shop to charge 3 hours of labor plus alignment.
Warranty: Low Range Off Road has lifetime warranty on materials and workmanship. Despite what you may hear from your Toyota dealer, installing a lift kit will not impact your Toyota factory warranty. However, you may have to fight with them a little before they honor the warranty.
Pricing: $299.
Special thanks to techs Ryan Prue and Tanner Tilton of Stevinson Toyota East in Aurora, CO for working on this project with us.
Filed Under: Tundra Lift Kits
Comments (116)