Toyota Tundra Fuel Gauge Questions
Jason Lancaster | Oct 23, 2007 | Comments 95
Over the past few months, we've received some questions about the Tundra's fuel gauge. Basically, they all come down to this:
1) When my truck's fuel gauge shows "E", I've actually got quite a few gallons left in the tank. What gives?
The big reason — the fuel gauge sending unit is fairly low-tech. There's a float in the fuel tank, and it's somewhat inaccurate. Part of the inaccuracy is due to the technology itself — a float will rise and fall depending upon if the truck is turning, is level, has been moving recently, etc. Floats can also get "stuck". For instance, if you leave your keys in your ignition in the "on" position (truck's not running, but one crank and it will be) the next time you fill up, chances are when you jump in your truck to go you'll see your fuel gauge reading less than "F", even though you just filled it. That's the nature of the float.
The second reason that the gauge shows "E" even though there is quite a bit of gas in the tank — the tank itself is pretty big. A big tank means that substantial changes in fuel volume don't equal substantial changes in fuel height. You can look at my poorly drawn graphic below, but if you do the math and calculate the difference in height that the float must detect as one or two gallons leave the tank, you can imagine it's pretty small. Combine that with the fact that the float is least accurate at the extreme ends of its range (read at empty and full), and you've got a formula for poor accuracy. Here's the important part — it's been this way for decades.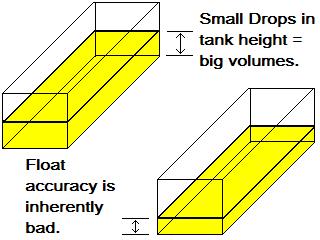 The last reason, and the best explanation for why no one has ever bothered to improve on the current system, is that auto manufacturers like the idea of a "fuel reserve". With the exception of Toyota, nearly all manufacturers offer free roadside assistance for the first 3 years of a vehicle's life. That roadside assistance includes bringing you gas if you were to run out. If the tank has a hidden reserve of 2 or 3 gallons below the "E" mark on the gauge, you're much less likely to run out of gas, and thus much less likely to call roadside assistance. Also, if you're a procrastinator like me, this reserve feature has saved your bacon a time or two.
The big issue with the Tundra — if you can call this an issue — is that the reserve in the Tundra's tank has been reported to be as high as 6 gallons! We suspect this is one of many first-year production issues that Toyota will clear up over time.
If you want to calculate your "reserve", simply drive your truck until your fuel gauge is reading "E" (wait until the needle points right at it). Then, when you fill up, subtract the amount of fuel you add to your truck from the listed capacity of 26 gallons. Oh yeah — make sure you're near home when you try this out. That way someone can bring you some gas just in case your truck has no reserve (highly unlikely, but technically possible).
Filed Under: Maintenance Tips
Comments (95)