Product Review: Volant Cold Air Intake
Jason Lancaster | Oct 18, 2007 | Comments 59
We found out about the Volant's new cold air intake for the 5.7L Tundra on TundraTalk.net, a nice forum for Tundra owners. After reading a few positive reviews from forum members, we contacted Volant and asked them if they might be interested in allowing us to review their product. They gladly accepted, and a brand new cold air intake arrived at our door.
Our first impressions of the Volant intake were positive. Opening the package, we were amazed at just how simple this kit is. There's the air box, duct, filter, some clamps, a hose connector, and some nuts and bolts. The air box's chrome surface (see photo) is covered with plastic film to protect the finish as you install the kit — a nice touch. There's also a brochure and some very rudimentary instructions.
Speaking of instructions, installation is brutally simple. This has definitely got to be one of the highlights of this kit. Simply remove the stock air filter, engine cover, loosen a couple of clamps, unplug a couple of hoses, remove a couple of bolts, and the factory box is out of the truck. Next, you assemble the air box, bolt it into place, and reconnect all the hoses. One complaint we have – and it's minor – is that the instructions themselves are pretty poor. They tell you how to get the job done, but we think someone should go through them and fill-in a couple of the blanks. The quality of the instructions themselves is also lacking — they look like they were made on an old zerox machine. Finally, the pages of instructions were actually stapled in the wrong order. Like we said, it's a minor complaint — install is really easy — but the value of the kit might be a little higher if the instructions were higher quality (both in material and clarity).


Volant Air Intake Toyota Tundra Installation video
One of the other problems we have with this kit has to do with Toyota's engine cover. First of all, in Volant's defense, the piece of plastic that is supposed to "look like" an engine is stupid. It's just there so that when a salesman opens the hood of the truck, he doesn't forget the engine size and the customer can nod appreciatively and say "yes, that's the 5.7L alright". Basically, the engine cover is completely useless. Anyways, the problem here (and it's minor) is that Volant's air intake takes up some of the space that the engine cover needs to rest in. Volant provides a higher stud for the engine cover to attach to, but it's not as solid as the factory setup. It's not a big deal — the engine cover doesn't do anything, doesn't support anything, and really doesn't need to be attached very tightly — but it would be nice if they had a solution that was a little more clever.
Fit and finish on the rest of the kit is excellent – the air box is flush against the fender and completely sealed so that only cool outside air can make it into the engine. [We've since been informed that the kit doesn't completely seal against the fender. There is a small gap. Our tests indicate the gap doesn't effect performance, but it should be noted.] This is a major selling point for Volant – they have studies that show most air boxes (both OEM and after market) let hot engine gases seep into the air the engine breathes, raising the air's temperature and thus decreasing performance.
We have to say that the Volant kit looks awesome — it's much more impressive than the factory air box and it looks a lot nicer than other air intakes we've seen. Sure, looks aren't everything, but who doesn't like to show off a cool accessory under the hood?
The air filter inside this kit is also a selling point for Volant. Unlike many competing companies, Volant's PowerCore air filter is not made from cotton gauze. Instead, hundreds of staggered flutes catch 99.95% of the particulates that can damage your motor, and it does so without needing to be oiled periodically. Volant warranties their PowerCore air filters for 4 years or 100k miles, and they offer their filters in sizes that are compatible with air intakes from K&N, AEM, etc. We like the idea of a dry filter (cleaning and re-oiling filters is never fun or interesting), and we are intrigued by Volant's claim that their filter allows better flow while catching more particulate matter.
So let's get down to brass tax — how did the intake perform? When we first started the truck, we were amazed at how quite the Volant intake is. Whether sitting at idle or cruising down the highway, we didn't notice any additional noise from under the hood. However, when you floor the throttle, you can hear the engine sing. Without exaggeration, you just can't help but smile under full throttle. The sound is so pleasing to the ear, it's like driving a race car. Very cool. We'd have to say the price of the kit might just be worth the sound alone.


Sounds of the Volant Air Intake for the Toyota Tundra – watch the video to hear the intake in operation.
Additionally, we noticed faster throttle response. Before, our test vehicle hesitated slightly on changes in throttle. With the Volant intake installed, response was almost instantaneous. The truck also felt quicker, both from a dead stop and as we accelerated on the highway. Overall, the kit seemed to make a big difference and it felt very good to drive.As far as horses are concerned, Volant claims the kit will add as much as 21hp to your Tundra's 5.7L engine. They've even got the dyno graph to prove it. Looking closely at Volant's graph, it looks like the air intake added about 14 hp at 5000 rpm, and nearly 18 hp at 5300 rpm. Our own results basically mirrored that result, but with lower magnitude. We recorded an 8 hp gain at 5000 rpm, and about 10 hp at 5350 rpm. Considering our base truck was making about 287 hp that day, and that the base truck in the Volant test was making nearly 300, we're thinking that better conditions might have yielded better results (at least for our tests). But, like any cold air intake kit, the manufacturer's estimates are always a little optimistic. Nonetheless, the difference we felt in power before and after was substantial. We think you can plan on seeing a gain of at least 5-10 hp, with some owners experiencing the full 21 hp Volant reports.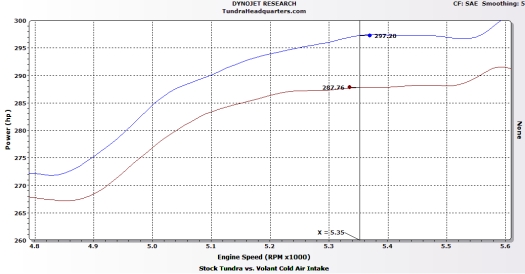 Click for larger view.
All in all, we like the Volant kit. It looks good, sounds good, drives good, and improves performance. We're extremely confident in telling current Tundra owners that the Volant kit will add power. Like we said in our Tundra air intake guide, the factory air intake is pretty decent. But if you're looking for a little more power, a more aggressive sounding truck (at least on WOT), or if you want to maximize horsepower gains from other accessories, installing a cold air intake makes sense.
Bottom Line: We really like the look and sound of the Volant kit. Installation is a breeze, and engine performance and throttle response were noticeably improved. We like Volant's dry air filter, and we've read a lot of positive user reviews of the product. We do think the instructions could be a little nicer, and we wish they would have come up with a better way to accommodate the factory engine cover, but overall we will recommend this kit. Be sure to shop around before buying, as we found prices ranging from $360 to more than $500. NOTE: After completing this review, we learned that the kit does not seal against the fender completely. Our tests indicate the kit does add power, and we still like the look and sound, but it must be noted that the kit's "fit and finish" is not as nice as we first reported. We're not going to revoke our endorsement because of this issue because the kit does add power — we've proven that thru testing — but make sure you get this kit for discount.
Here's a link to the least expensive Volant Cold Air Intake System we found for the new Tundra.

Filed Under: Toyota Tundra Accessories • Tundra Videos
Comments (59)