Toyota Says No More To Dust Mites
Jason Lancaster | Jan 31, 2008 | Comments 4
Dust allergy sufferers everywhere rejoice!

According to JapanToday.com, Toyota announced the development of the world's first car seat fabric agent that stops 98% of dust mites from becoming active. Toyota intends to begin offering this new treatment on vehicles sold in Japan in the next few years.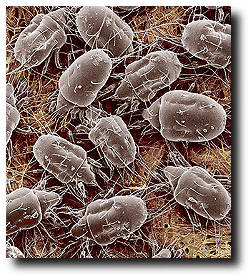 Dust mites, while technically harmless, are definitely very gnarly-looking creatures. These microscopic beasts account for a substantial portion of the world's dust (10-20% according to EHSO.com)- mostly because they're constantly shedding their skin and leaving their feces wherever they please. Even worse, dust mites are suspected of contributing to asthma, eczema, hay fever, and other common allergies. Mites particularly enjoy living in places where your body rests on fabric (like mattresses and car seats).

Abating dust mites is rather simple – you can wash your sheets in hot water every couple of weeks, dust and/or vacuum regularly, and use a plastic mattress cover…which brings us back to car seats. Because you can't really remove your car's seat cover and wash it every couple of weeks, and because it's far too difficult (not to mention expensive) to steam or shampoo your interior regularly, dust mites are rampant in the average car.

That's why this is such a big deal – at least if suffer from asthma, eczema, or common allergies. Assuming this agent will meet FDA, EPA, and everyone else's approval, expect Toyota to begin offering this as a standard feature in the next three or four years.
Another interesting news story brought to you by TundraHeadquarters.com…
Filed Under: Tundra News
Comments (4)