Toyota Extends Warranty On Tundra Frames
Jason Lancaster | May 06, 2010 | Comments 465
According to a letter sent out to Toyota dealers, Toyota has extended the warranty on 2000-2003 Tundra frames, which allows dealers to replace rusted frames on 2000-20003 Toyota Tundras at no charge to the consumer. This is excellent news for any Toyota Tundra owners dealing with frame rust issues as well as a strong symbol of Toyota's commitment to quality and customer service. While this move didn't happen as quickly as we would have liked, we strongly applaud this action.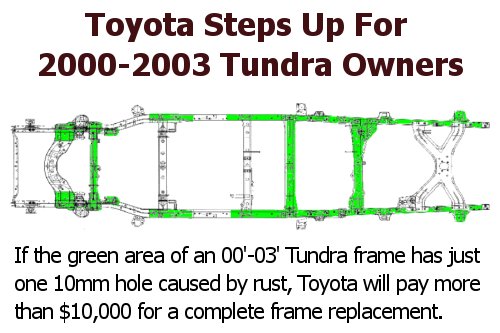 Here are the specifics of the free frame replacement program:
All 2000-2003 Tundras are eligible for frame replacement, regardless of their geographic location.
The frame will only be replaced if perforation due to rust can be found, and only if that perforation is larger than 10mm in diameter. For reference, a marble is about 10mm across.
Frames with perforation will be replaced free of charge, and a rental vehicle will be provided while the frame is being replaced.
There is no mileage limitation, but the vehicle must be in otherwise good condition to qualify for a free frame replacement. Trucks with severe body damage, non-functional powertrains, and salvage vehicles are not eligible for this program.
This program is available until April, 2012.
This Program Is In Addition To Last Year's Frame Rust Recall
In response to a NHTSA investigation, Toyota announced a recall to replace rusting rear cross-members on 2000-2003 Tundra frames in November of 2009. NHTSA's investigation found that 00′-03′ Tundra spare tires – which are mounted to the rear cross-member – were falling off due to frame rust. This investigation forced Toyota to recall all 00-03′ Tundras in 20 cold weather states to check the rear cross-member for rust.
Unfortunately, many of the recalled trucks had severely rusted frame components that were NOT covered under recall. Toyota said that recalled trucks with more extensive rust would be evaluated on a "case-by-case" basis which – according to many Tundra owners – was problematic. Months long delays and inconsistent offers (some owners were offered buy-backs, some were offered new frames, and some where told nothing would happen) created a lot of anger and confusion.
The new program is intended to answer the frame rust issue once and for all. If your 2000-2003 Tundra has a frame that has been damaged by rust (NOTE: Surface rust is NOT damage – we're talking about perforation here), you get a new frame. The letter indicates that most frames will be replaced in less than 30 days, with frame ordering times of 1-2 weeks and the actual repair taking 4 or 5 days. Tundras with accessories may have trouble with this warranty is those accessories are frame-mounted.
If you own a 2000-2003 Tundra, we suggest you bring it to your local Toyota dealership for a free inspection ASAP.
Is Toyota Changing For The Better?
When stories of Tundra frame rust first began to appear in the news in April of 2009, Toyota's response was cryptic. While Toyota seemed to indicate Tundras had this issue, they did not seem overly concerned about resolving the problem quickly. When we published Tundra frame rust photos in August of 2009, the issue seemed to be gaining momentum with our readers and on other Tundra websites. NHTSA began investigating Tundra frame rust complaints in October, 2009, and in just a few weeks NHTSA found evidence of a problem. Toyota, in an effort to keep this issue and quiet, announced a "voluntary" frame rust recall just before the Thanksgiving holiday last year (November 09′).
Unfortunately, as was outlined above, the "voluntary" recall didn't do enough to solve the problem. Finally, 6 months after the frame rust recall, Toyota launched the limited service campaign we're discussing today.
While the apparent lack of urgency in resolving this issue is disappointing, Toyota's decision to replace these rusted frames indicates their commitment to Tundra buyers. What's more, Toyota will begin notifying 2000-2003 Tundra owners of this program this month. The notification letter states:
Toyota has received isolated reports regarding certain 2000 through 2003 model year Tundra vehicles exhibiting excessive rust corrosion to the frame causing perforation of the metal. Toyota has investigated these reports and determined that the vehicle frames in some number of vehicles may not have adequate corrosion-resistant protection. This combined with prolonged exposure to road salts and other environmental factors may contribute to the development of excessive rust corrosion in the frames of some vehicles. This is unrelated to and seperate from normal surface rust which is commonly found on metallic surfaces after some years of usage and/or exposure to the environment.

Although the vehicle's frame is covered by Toyota's New Vehicle Limited Warranty for 3 years or 36,000 miles (whichever comes first), we at Toyota care about your overall experience and confidence in your vehicle. To assure you that we stand behind our product, we are providing an enhancement to the warranty coverage on your vehicle's frame for this specific condition for a limited time (repairs must be completed by April 30, 2012).
The letter seems to indicate a change in Toyota's posture on this issue – perhaps it's a result of pressure from NHTSA, but we'd like to think that Toyota's new PR team has helped Toyota execs recognize the negative impact rusting frames has on sales of new Tundras. By stepping up and replacing frames, Toyota has fixed a mistake. Considering the cost of this free frame replacement – in excess of $10,000 per vehicle – Toyota has put their money where their mouth is.
While we're sure there are Tundra owners who will not be satisfied by Toyota's frame replacement offer, it would seem that this issue is finally resolved. New Toyota Tundra sales might see a boost as well.
Comments?
Filed Under: Tundra News
Comments (465)