Tattoo Artist Corey Miller Will Customize 2014 Toyota Tundra
Tim Esterdahl | Nov 22, 2013 | Comments 15
UPDATE: Winner announced for the 2014 Raybestos Rattlesnake Toyota Tundra contest on Nov. 7, 2013. Dave Cramer, property manager in Vancouver, Wash won the truck.
"To say I'm excited would be an understatement," said Cramer in a press release. "I must have entered 10,000 contests in my lifetime, and this is the first time I won anything." Cramer said he's a bit of a car fanatic. "I'm single, but I own five cars!"
The Raybestos Rattlesnake ups that to six. Cramer's son Eric, a deputy sheriff and retired army ranger, joined him at the presentation.
The signature-edition truck was the grand prize in the brands' 2013 North American summer sales promotion. The winning entry was pulled from more than 170,000 entries received.
Well-known Southern California tattoo artist Corey Miller will be applying his trade to sheet metal as part of an online contest.
The Raybestos Rattlesnake 2014 Toyota Tundra Video: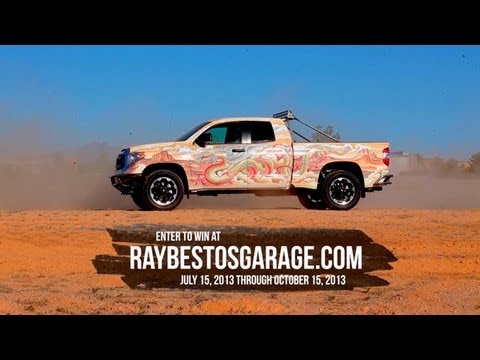 Raybestos says:
Raybestos Brakes and Chassis have assembled an automotive dream team in the Phoenix desert to build a venomous off-road monster — the Raybestos Rattlesnake™ 2014 Toyota Tundra. This desert sidewinder is carefully being hand crafted by Addictive Desert Designs, with help from the boys at Joe Gibbs Racing, TRD, Mickey Thompson, Dick Cepek and it's finished with a custom wrap created by world famous tattoo artist Corey Miller.

The best part, is that you can win it! Just enter at https://raybestosgarage.com/contest/ for your chance to win this monster of a truck!
Custom trucks like this have also gained a lot of attention for their uniqueness and often downright coolness. The combination of an experienced tattoo artist and a great looking truck should result in a really sweet looking ride.
If you don't know Corey Miller, he has been featured on the TV-show L.A. Ink and his Southern California Six Feet Under tattoo shop is known around the world.
Miller told Trucktrend.com that even though he hasn't worked on a vehicle before he is excited and motivated to get started. In regards to his design ideas, he said "I'm thinking of a dragon peeling out…this truck is going to be gritting its teeth and screaming forward just like a dragon does – absolutely shredding it."
Why the Tundra? As stated on Raybestosgarage.com, Corey says that he's always been an unapologetic truck guy and, when Toyota began making the Tundra larger, he took notice. "When I saw this truck, I realized how much they'd changed it, made it cooler," he remembers.
"This is a Toyota but it is big and bitching [bad]. When something looks good, looks natural, like the new Tundra does, it is easy to be inspired. Honestly if this was another type of car, I wouldn't be inclined to do it. But this is such a bold vehicle."
The plan it seems is to take one of the first 2014 Tundra pickups off the line and immediately let Miller have free reign over its design.
The online contest is with Raybestos Brake and Chassis shop and will include a giveaway of the truck at the 2013 SEMA Show in Las Vegas. It will start on July 1, 2013, and run through October 15, 2013. Raybestos says the truck will be awarded to a lucky winner at the 2013 SEMA Show in Las Vegas. For more information, and to enter the contest, visit raybestosgarage.com/contest/.
Related Posts:
Filed Under: Featured Vehicles
Comments (15)