Rob's RBP CrewMax
Jason Lancaster | Oct 15, 2010 | Comments 12
When you find a company that identifies your truck and personality, you've got to jump on board. Rob has created a magnificent Tundra that could be a show truck for RBP (Rolling Big Power), a premium truck accessory manufacturer. Check it out:
This 2010 Tundra Crewmax TRD Sr5 5.7 4×4 was bought bone stock at Joe Machens Toyota, a dealership Rob wanted mentioned because of the help the offered. Rob also wanted us to mention Cris Payne, owner of TundraStop.com, and Rich Bravo, owner of Dubzdirect.com – both of these guys delivered with no problems.
NEW – Video showing Rob's truck: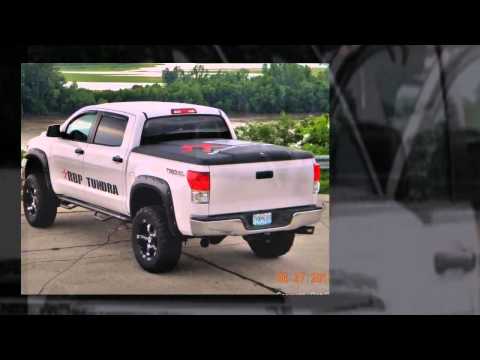 Rob's Mods
RBP RX black grille with rivets and custom installed LED lights
ATC Platinum Edition Solid Locking Tonneau cover w/LINE-X exterior coating and embedded RBP "Rolling Big Power" decal
Debadged exterior w/RBP TUNDRA side decals
Lund AVS in-channel window visors
Tint – Front windows 20%  and windshield 8″ brow strip at 5%
Custom painted RBP engine cover
Rob offered a very nice quote about the TundraHeadquarters.com social network too, Tundra Network:
I owe alot of my success to TundraNetwork, since it was here that I was able to get in touch with the right people that made this happen and at the price I needed! I could've pieced it together by myself, but it made it a lot easier having people here to talk with, reviews to read, and small business owners that are actual Tundra owners, whose trucks are equipped with what they're selling…I'm proud to be a member of this site, and tell anyone with a Tundra that this is the place to go….period.
Rob, thanks for the compliments about TundraNetwork, and thanks for letting us feature your truck!
Are you a member of TundraNetwork? If not, maybe you should join…
Filed Under: Featured Vehicles
Comments (12)