October 2015 Sales Results – Tacoma Up, Tundra Flat
Tim Esterdahl | Nov 13, 2015 | Comments 4
Another month is in the books for 2015 and the new Tacoma is starting off hot while the Tundra is flat. Production is likely still being skewed toward the Tacoma, yet the consistent lack of growth for Tundra is starting to become glaring.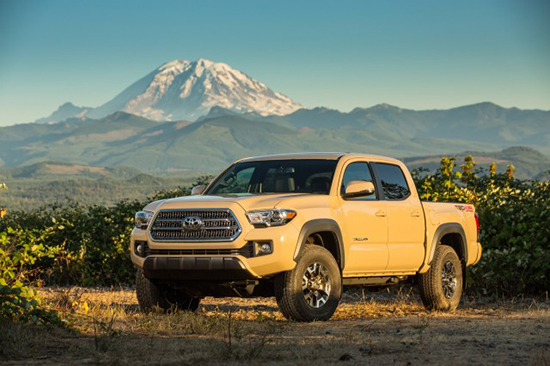 Before we dig into the numbers, here they are:
Rank
Model YTD Sales
YTD vs. 2014
Year-Over-Year
Monthly Sales
Monthly Change vs. 2014
1 - Ford F-Series
629,951
+1.5%
October 2015
October 2014
65,500
63,410
+3.3%
2 - Chevy Silverado
492,551
+14.8%
October 2015
October 2014
51,647
46,966
+10.0%
3 - Ram Truck
371,574
+3.3%
October 2015
October 2014
40,931
39,834
+2.8%
4 - GMC Sierra
180,174
+8.6%
October 2015
October 2014
18,521
18,564
-0.2%
5 - Toyota Tacoma
148,905
+16.6%
October 2015
October 2014
15,233
13,010
+17.1%
6 - Toyota Tundra
99,140
+0.8%
October 2015
October 2014
9,514
9,525
-0.1%
7 - Chevy Colorado
70,291
NA
October 2015
October 2014
7,059
1,491
+373.4%
8 - Nissan Frontier
52,025
-16%
October 2015
October 2014
4,764
6,568
-27.5%
9 - GMC Canyon
24,841
NA
October 2015
October 2014
2,415
667
+262.1%
10 - Nissan Titan
10,403
-2.6%
October 2015
October 2014
882
990
-10.9%
11 - Honda Ridgeline
515
-95.8%
October 2015
October 2014
0
802
-100%
Several surprises stand out for us when we sift through the results:
Ford – while the truck maker will close the year with yet another "best-selling truck in America" sales crown, the Silverado is really nipping at their heels and Ford's growth has paltry at best.
Chevy/GMC – all indications we have are that Chevy has a lot of cash on the hood and this is a big factor  why their trucks  are selling so well. For comparison, GMC doesn't have the same amount of cash on the hood (from what we hear) and this explains their numbers.
Also, the mid-size twins are finally starting to near year-over-year comparisons. It will be interesting to see if they can keep their momentum up and it will be interesting to see how the diesel offering spurs on sales.
Toyota – the entire focus right now seems to be on the Tacoma right now and the sales numbers reflect this. However, the consistent stagnant growth of the Tundra is getting old. While the response from Toyota will always be about the production mix, Toyota Tundra fans (as we have seen in the comments lately) are getting restless. With the Chicago Auto Show on the horizon, typically a big truck event for Toyota, will we see something new? This question will likely build with anticipation over the next few months.
Nissan – A lot of energy has been poured into the new Titan and, with a staggered roll-out plan, it will likely be a few years until we see how this pays off.  The current towing capacity number of 12,312, MPG estimates of 17 and payload of around 2,000 lbs doesn't add up to really fitting in the heavy-duty half-ton niche in our minds. Yet, we have been told the towing "workhorse" models of the XD are coming later. This is a curious roll-out strategy to us.
Honda – The new Ridgeline's appearance is on the horizon at the 2016 North American International Auto Show and with it comes hopes of a revival for the nameplate. Recently they showed a desert runner concept at SEMA which more resembles what a full-size truck looks like. It will be interesting to see how this plays out.
Filed Under: Auto News
Comments (4)