New 2009 F150 Versus Toyota Tundra
Jason Lancaster | Jan 18, 2008 | Comments 347
NOTE: We've updated this information and completed a full, official comparison of the 2009 F150 and the 2009 Tundra. If you'd like to comment, please comment on that post instead.
This week marks the 2008 North American International Auto Show, with Ford debuting the next generation F150 due out in 2009. The newest F150 will represent tougher competition for the Tundra with new features, new engines, better fuel economy, and of course, new sheet metal. Here's a break down of the new 2009 F150 and Toyota's anticipated response.
The Next Generation F150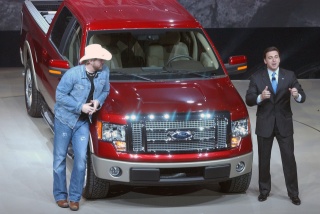 Due out in 2009, Ford's newest F150 (seen hear with Toby Keith and Ford CEO Alan Mulally), will have the new Ford signature three-bar grill similar to the SuperDuty. The SuperCrew will be 6″ longer to make it more competitive in terms of rear seat space. The 2009 F150 will also be lighter (perhaps as much as 500lbs) in order to improve fuel economy. Most of the weight reduction will come from the chassis…Ford states that the new F150's chassis will be stronger and lighter than the current truck. We're guessing they'll use thinner, stronger steel and more aluminum. Most importantly the newer, lighter truck will achieve better gas mileage across the board using Ford's current 5.4 and 4.6 V8's (1-2 mpg's max).
In 2010, one year after the re-design, Ford will release a mid-sized diesel as well as a gas turbocharged direct injection (GTDI) engine named "EcoBoost". Ford's F150 diesel will be about 4.5L in displacement and we're guessing it will have 250 hp and 425 lb-ft of torque, with fuel economy above 20mpg (city or highway). As for the "EcoBoost" engine, it will most likely be the 3.5L GTDI V6 that will be offered in the MKS next year. That engine is rated at 340 hp and 340 lb-ft in the Lincoln, but it will probably be downgraded in the F150. Expect the F150's EcoBoost V6 to have at least 300 hp and 300 lb-ft of torque while getting better than 20mpg (highway). The EcoBoost engine won't replace the 5.4 V8, but it will most likely eliminate the need for the 4.6L at some point.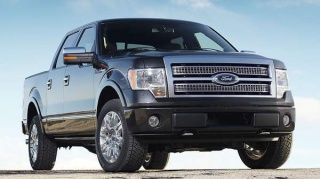 The new F150 will also offer a "trailer sway mitigation system" that uses the new standard Roll Stability Control to determine if the trailer is moving the truck and respond accordingly. It sounds pretty incredible, but we'll have to see it in action before we make any judgments. Ford will also offer a back-up camera and a trailer hitch step system similar to the SuperDuty on the new 150.
Finally, Ford will continue to move the F150 up-market. A "Platinum" version of the F150 will be available – it will most likely encompass all the features of the soon-to-be discontinued Lincoln Mark LT. We've read they'll have "tuxedo stitching", brushed aluminum panels, etc. As usual, the new Ford will look nice inside and out.
Toyota's Response
Ford hasn't suggested they're going to add a more powerful gas engine to the F150, meaning that the Tundra will maintain it's supremacy in terms of horsepower and towing (with a gas engine). Ford's new F150 diesel will probably be rated to tow more than 11,000 lbs, but it will directly compete with the new diesel Tundra, which should also be rated at more than 11,000. It's anyone's guess to see what these trucks are rated to pull, but 12,000 lbs seems like the limit. It will be interesting to see who builds both of these diesel engines, as Ford's relationship with Navistar is ending and it's still unclear if Toyota will use a diesel from Isuzu, Hino, or one sourced internally.
Toyota's response to the EcoBoost engine from Ford will be interesting. Originally, we anticipated Toyota would produce a hybrid version of the Tundra, but as we reported a few days ago the Tundra Hybrid is dead. Toyota may be planning to attack diesel fuel efficiency, but they may not have a response to the EcoBoost. That might be a big competitive edge for Ford, but we'll hold that judgment until we have a chance to drive one.
As for the F150's new Platinum edition, it seems like the Tundra Limited has that covered. Both manufacturers will probably offer rear heated seats, some sort of entertainment/information system (a la Microsoft Sync), special colors, interiors, etc. Nothing revolutionary, but nice nonetheless. Ford will probably maintain their lead here.
It's probable Toyota will re-skin the Tundra between now and 2009, but it's going to be relatively minor. It's anyone's guess what Toyota will do to improve the Tundra – most likely it will be minor adjustments and updates designed to alleviate some of the Tundra's problems.
The last time we compared the Tundra and F150, the Tundra was safer and more powerful than the F150. The Tundra had more standard safety equipment, a better tow rating, more horsepower, bigger brakes, and better overall performance. While Ford will finally be adding standard Roll Stability Control, there's no mention of improving the 5.4's power or tow rating, or improving the braking system.
Could it be that the 2007 Tundra will come out on top when compared to the 2009 F150? It will be interesting to see…we'll get back to you in a few months.
Filed Under: Toyota Tundra Reviews and Comparisons
Comments (347)