The Manual Transmission Is Dead
Jason Lancaster | Nov 16, 2012 | Comments 14
If you're like me, you love yourself a good old fashioned stick shift. There's something about banging from one gear to the next that makes driving just a little more enjoyable.
However, unless you've been living under a rock, you've noticed that manuals are getting harder and harder to find on new car lots. There are three key reasons for this:
Emissions and fuel economy regulations have forced automakers to implement complicated electronic controls that are incompatible with manual transmissions.
Automatic transmission efficiency has dramatically improved in the last decade or so.
The operating costs of a modern automatic are lower than ever.
Am I glad to pronounce the death of the manual transmission? Not at all. Yet the fact is, the manual transmission is dead.
Here's how it happened.
Computers Are Smarter Than Us
Skynet jokes aside, computers are better at controlling engines than humans. Therefore, we empower our vehicle's computer system to ignore – or perhaps just moderate – throttle inputs to suit conditions. This, in turn, means that we get better fuel economy and reduced emissions.
However, all the fancy computer programming in the world can't maximize efficiency if the loose nut behind the steering wheel is cruising in the wrong gear. Therefore, automatic transmissions and sophisticated engine management systems go hand-in-hand. While some stick shift fans argue that they're better at maximizing efficiency than a computer, the evidence says that's debatable (more on that evidence in a minute).
"Slush Box" is A Derogatory Term
Up until the mid 1980's, calling an automatic transmission a "slush box" was an accurate statement. You could say that automatics were inherently less efficient than manuals because all the engine's power was transmitted through the fluid inside the transmission housing, as there was no direct connection between the engine and the driveline.
However, with the advent of lockup clutch in the 80's, transmissions have become a lot less "slushy." Once your vehicle reaches a comfortable cruising speed, your vehicle computer will tell your transmission to lockup the torque converter. This forms a direct connection between the engine and the rest of the driveline…which means that the slushing stops until you change speed.
As computer controls have become more sophisticated, automatics are able to spend more time in lockup. This has raised the efficiency of automatic transmissions to the point where automatics are every bit as efficient as manuals. In the Edmunds.com 40mpg challenge from June of this year, two automatics finished 2nd and 3rd in fuel efficiency, ahead of 3 stick shifts…all of which were driven by experienced automotive journalists.
Which brings me back to an earlier point: Maybe you can drive a stick more efficiently than a computer can drive an automatic, but if you can't, you're in good company.
Automatics Have Lower Operating Costs Than Sticks
If you have a stick shift, at some point you will have to replace a clutch. It's a fact of life. The only question is when. (NOTE: 100k miles is a good rule of thumb.) While the clutch itself is relatively cheap (a couple hundred bucks, give or take), the labor required to replace a clutch is often expensive. Unless you're going to do this work yourself, you can expect to spend at least $1,000 on a clutch replacement.
Contrast that with the maintenance costs of a typical automatic transmission, which requires new fluid every 60k miles or so. Transmission service costs can range, but if we assume that they cost $200, than we can drive 300k miles before we've spent $1,000 maintaining our automatic. That means the auto is about one-third as expensive to maintain.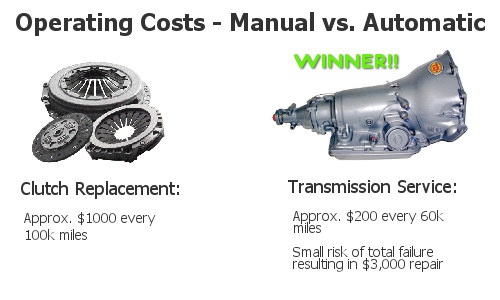 Granted, automatic transmissions aren't perfect. When they suffer a full failure, they're expensive to fix. But the odds of suffering a failure are generally very low. Compared with the cost certainty of clutch replacement, the average overall costs of automatic transmission ownership are lower (only that's little consolation to folks who've had to pay for a major automatic transmission repair).
What's more, new synthetic transmission fluids promise to eliminate the need for replacement. Shell's synthetic Spirax automatic transmission fluid is designed for heavy-duty use and promises to last as much as 300k miles before requiring replacement (see article on SAE.org).
Sidebar: Have you ever heard of a sealed automatic transmission? A LOT of new cars and SUVs have them, and they don't have any defined maintenance interval. Most of the time, there's mention of replacing the fluid on the very last page of the scheduled maintenance book that comes with the car, but that's it.
Bottom Line: Compared to a stick-shift, the modern automatic transmission offers comparable fuel economy, reduced emissions, and lower operating costs. It's also easier to drive. Therefore, the time of the stick-shift is at an end.
Filed Under: Auto News
Comments (14)