A Real Lightning McQueen Powerwheel
Tim Esterdahl | Dec 25, 2013 | Comments 6
In the spirit of Christmas, we thought we would re-run this story about a cool dad and one special present.
As Dad's we want to give our kids everything and we are disappointed when their favorite toys wear out especially their favorite Lightning McQueeen racing car. What happens though when we are mechanically inclined Dad's? Well … then, we simply tear it down and make it better, of course! Check out the video for one motorized, modified car that even goes off-road.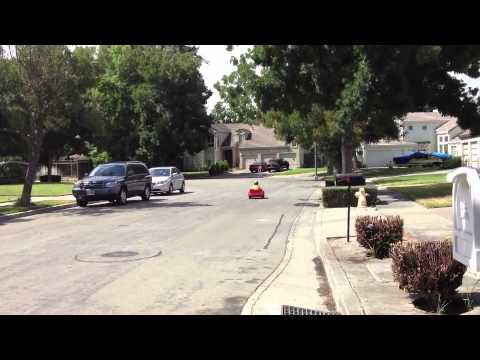 The video says that "At the age of 2 Evan received his Lightning McQueen Powerwheel for Christmas of 2009. After three years of use he had worn through the plastic wheels. We decided to upgrade the oem plastic wheels to metal rims with rubber tires. From that point more modifications were added every few weeks."
The Powerwheel now has:
Aluminum back half chassis
Dual sealed gel batteries with an output of 24 volts
500 watt .66 horsepower electric motor
Disk brake
Throttle modulated variable speed control with reverse
Sparco battery cut off switch
We can't say for sure, but we feel safe in saying that the makers of Powerwheels didn't envision this modification. This is the car that should have been stock off the shelf. Unfortunately with the current child safety laws, it is obvious it isn't. It is nice to see Evan wearing a helmet though.
What is the coolest toy you had growing up? Can it match this Powerwheel?
Related Posts:
Filed Under: Auto News
Comments (6)