Fox Coilover Suspension Kit on a 2010 Tundra
Benjamin | Feb 04, 2011 | Comments 0
A coilover system is one of the most cost-effective ways to upgrade the suspension on your Tundra.  Fox Racing has come out with a set of coilover replacements that can tighten up the front end of your pickup for driving over rough terrain and which don't require any special modifications to install.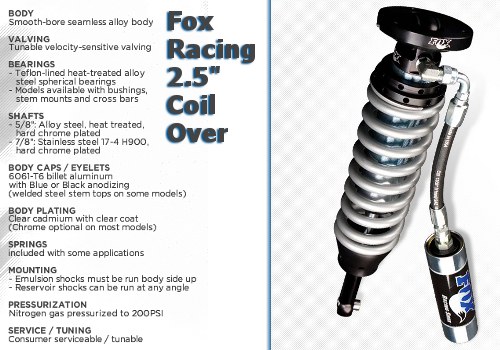 The Fox Racing 2.5 coilovers make use of Eibach springs and come with all of the necessary hardware for installation.  The nitrogen shocks are pressurized to 200 psi, and they can be tuned on the truck.  Out of the box, they offer 2.5-inches of lift (hence the name) over the front wheels.  The coilovers make extensive use of billet aluminum and really look great once installed.
Fox Racing Coilover Installation
Getting the Fox Racing 2.5 coilovers under your truck is really as simple as unbolting the stock units and sliding the new parts in.  It's recommended that you drop the sway bar and the front skid plate (if equipped) before starting the job, as it gives you a lot more room to work.  Fox puts their logo on the "outside" face of the coilover which makes it easy to align – a small touch that we wish every aftermarket suspension manufacturer would think to include with their parts.  It's necessary to add lower tie rod end spacers in order to ensure proper suspension clearance, and Fox provides a longer anchor bolt, but other than that the rest of the installation process is simply the reverse what you did to remove the stock parts.  The last step is securing the remote reservoir for the coilovers to the Tundra's frame, which is accomplished via a simple mounting bracket that comes with the kit.
Fox Racing Coilover Performance
There is no question that the Fox Racing 2.5 coilovers perform as advertised when driven off-road.  The Tundra is much more planted over uneven terrain with this suspension system installed, and they help to provide better feedback through the wheel as well as more confident footing on dirt, loose rock and even boulders.  Even better is the fact that when driven on pavement, it is difficult to tell that difference between the stock suspension and the Fox Racing setup from a smoothness perspective – the more aggressive coilovers reserve their stiff and unyielding valving for trail conditions.  For Tundra owners interested in evening out suspension response at all four corners, Fox Racing also offers "2.0" piggyback shocks that can be installed out back.
If you are looking for a solid between daily driving and weekend fun, it's tough to beat the Fox Racing 2.5 coil over. When you consider the features, the $1400 list price is reasonable…but the $800 street price is better.
Too bad that's just the price of one coil over.
Filed Under: Tundra Lift Kits
Comments (0)