In News That Should Suprise No One, Former GM Execs Are Clueless
Jason Lancaster | Aug 08, 2013 | Comments 3
Imagine that you were a senior manager at the old GM. Now imagine how you might feel when the company eventually succumbs to bankruptcy, and hundreds of thousands of people lose their jobs. Would you feel like a failure? Would you perhaps feel a little responsibility for what went wrong? A little guilt about not trying harder, putting up more of a fight, etc?
After all, if a company's senior management isn't somewhat responsible for corporate failure, than who is?
Sure the economy was a factor. So was the UAW. But GM and Chrysler failed while Ford (which had the same basic set of problems) didn't. GM management has to take some responsibility for what happened to GM…right?
Evidently, about 100 retired GM executives (most of whom were VP's or higher) didn't see things that way. Go figure.
We All Have To Make Sacrifices, But I Deserve What's Mine
When GM filed bankruptcy, the following happened:
Hundreds of thousands of people – most of whom were middle-class workers – lost their jobs, both at GM and at affiliated companies

Billions of dollars in debts (everything from outstanding commercial loans to outstanding invoices from vendors) were settled for pennies on the dollar
Employee pension obligations, which are generally held sacred in these types of proceedings, were cut
That last item brings us to GM's former execs, many of whom saw dramatic cuts in benefits. Any GM exec with a pension over $100k a year lost two thirds of said pension. Former CEO Rick Wagoner – who somehow managed to "earn" a $20 million dollar a year pension for his incredibly awesome stewardship of GM – saw his pension drop to a measly $8.5 million after the GM bankruptcy was completed (according to this story in the Detroit News).
All told, these executive pension cuts reduced GM debts by about $221 million – no small sum. Yet it's still a fraction of the $4.6 billion in pension cuts that GM had to make, most of which effected middle-class workers who never earned an executive's salary. Execs lost more of their benefits as a percentage, but they still got enough money to live like a king in the dried husk of a city that we used to call Detroit.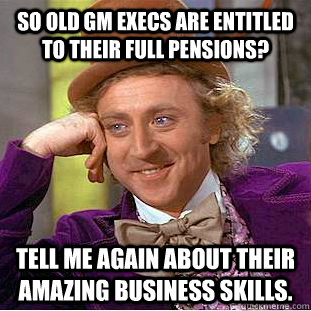 Of course, it's not that simple. A handful of former execs (about 100) felt that their pension sacrifice was too great. They believed they were entitled to their handsome pensions, and they sued GM for taking away their money.
Fortunately, this story has a happy ending. These execs didn't get their pensions back. But the story illustrates just how royally screwed up things were at the old GM.
Filed Under: Auto News
Comments (3)