Ford Announces New 'Merican Edition F150
Jason Lancaster | Apr 01, 2011 | Comments 26
Today's announcement of a new Ford 'Merican Edition F-150 is an attempt by the automaker to capitalize on the commonly held (and incorrect) belief that Ford's truck is the most "American" truck available on the market today. From Ford:
Our new 'Merican edition F-150 is a vehicle that was mostly built by 'Mericans for 'Mericans celebrating 'Merica as the greatest country on Earth. Don't tread on me, these colors don't run, various patriotic sentiment, etc.
When asked about the fact that the new 'Merican Edition F-150 was only mostly built in the USA (only 55% of the parts in an F-Series truck come from the US or Canda), Ford's spokesman replied "What do you want us to do – build a $1.2 billion dollar factory in Texas, bring in dozens of suppliers to build their own factories next to ours, and then hire thousands of American workers to build our truck? Do you have any idea how cheap it is to buy truck parts from Mexico? We'd like to hire Americans to build our truck and keep our domestic parts content at 90%, but we can make a lot more money if we build a lot of our parts in Mexico."
More info about the new Merican' Edition F-150: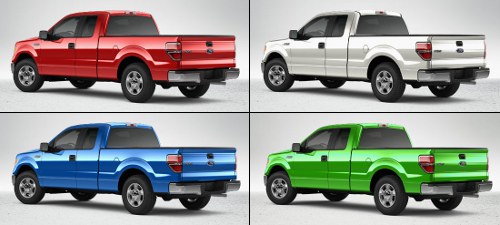 The package will only be available in Red, White, Blue, or Mexican-flag Green (in honor of the Mexican workers who helped build 45% of the truck).
Each truck buyer will be given a bumper sticker like the one below.
Each 'Merican F-150 buyer will be given a genuine "100% 'Merican" certificate of authenticity that is totally and completely meaningless, as 45% of Ford's F-Series contains parts from outside the US or Canada.
A Ford dealership salesperson will give every new 'Merican edition F-150 buyer permission to walk and act as if he or she is better than everyone else because they bought a supposedly "American" product.
Each buyer will also be given a handbook titled "How to Ignore Cars.com Studies That Show The Toyota Tundra has more American Parts Content Than Your F-Series and STILL Feel Good About Your Purchase" (see Cars.com study here and the official domestic content report here).
When asked about the possibility that potential Ford truck buyers might realize the wool is being pulled over their eyes, the Ford spokesman said:
Listen, there's official US government data that shows 45% of the parts in a typical F-Series don't come from the USA. The data has been out for years now…and not one of these dumb hillbillies has noticed. It's hilarious – Toyota's Tundra is easily the most American truck on the road, but these idiots buy Fords (and Rams and GM trucks) that have fewer American parts. Hell, some of the trucks themselves are actually built in Mexico! Are we worried they'll figure it out? No – if they haven't figured it out by now, they'll probably never realize the truth…that was off the record, right?
Filed Under: TundraHeadquarters.com
Comments (26)