Bullet-Resistant, Armored Toyota Tundra – Featured Vehicle
Tim Esterdahl | Sep 13, 2013 | Comments 14
So, you think your truck is cool with a lift kit, light bar and supercharger. We get it. But, can it stop a bullet? We didn't think so, this seriously modified Toyota Tundra can. Oh and by the way, it is a diesel. STOP DROOLING!
The armored Tundra was retrofitted by PAK Armoring. They are a professional armoring company founded in Pakistan. They now operate offices throughout the world.
The Tundra was imported to Pakistan and then armored by PAK Armoring. PAK tells us that the customer converted it to a V8 diesel, but we aren't sure which engine model it is.
On the armoring, PAK says it is a B7 level protection which runs about $62,000 in US dollars. Keep in mind, that is with you providing them the vehicle and does not include vehicle cost.
Here are PAK's protection levels: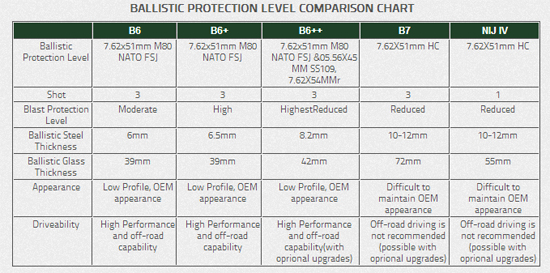 While it isn't off-road capable thanks to the armoring, this truck is seriously awesome.
If you think this is cool, check out their website and Facebook page. They have all sorts of other Toyota models they have retrofitted. Special thanks to Ahad Hamirani for his help in gathering this information.
What do you think? Drool worthy?
Related Posts:
Filed Under: Featured Vehicles
Comments (14)