2006 Toyota Tundra – 14000 LED Christmas Lights
Tim Esterdahl | Dec 26, 2016 | Comments 5
Some of us get into the holiday spirit more than others and this 2016 Toyota Tundra really shows off its holiday spirit with 14,000 LED lights. Yes, 14,000.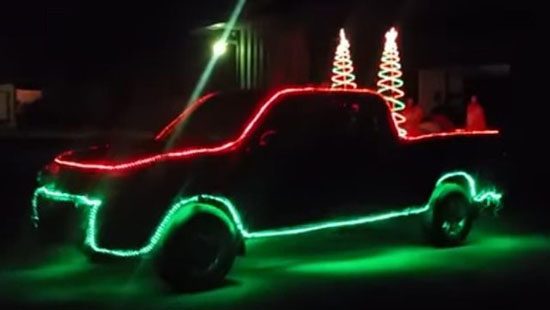 Equipped with a "green-Grinch" under glow and a red outline of the truck, the truck looks like a computer graphic outline of the body. Then, a flick of the switch really lights up the truck with an assortment of different colored lights. The resulting light output would make Rudolph proud.
The truck is a promotion for AV Tuning & Development to showcase their many products. It is powered by a 2000 watt inverter and Optima battery.
This video is the second one from them and it shows an additional 2,000 lights with additional underglow lights and lighted wheels.
Search terms people used to find this page:
tundra lifted truck with fox shock
Johnny Greaves Racing photos
toyota tundra frame rust pictures
2000 toyota trcome frame
Custom bumpers for 2010 Tundras
toyota tundra frame problems
2013 bi fuel silverado 2500
chief campers 1970s
show 02 tundra engine picture
1988 itasca sundancer house wiring diagram
Filed Under: Featured Vehicles
Comments (5)