2015 Toyota Tundra Pro Desert Race Truck – What You Need to Know
Tim Esterdahl | Oct 27, 2014 | Comments 1
Toyota is serious about showing off the reliability and looks of its Tundra Pro with a big booth at the 2014 SEMA show and an entry into one of the most grueling off-road races in the world. Here is what we know.
The 2015 Toyota Tundra Pro Desert Race Truck has a hand selected team and multiple modifications to help it compete in the 47th Tecate SCORE Baja 1000 running from November 12-16, 2014. This notoriously tough race pushes trucks and their teams to the limit. Toyota sees it as a perfect venue for showcasing the durability of its TRD Pro Series.
Toyota TRD Pro Desert Team
Team Coach:
Ivan "Ironman" Stewart
– Legendary Toyota Off-Road Racer, Off-Road Hall of Fame Member/22-time SCORE Baja 500 and 1000 Champion/San Diego, CA
Navigators:

Mike Sweers
– Chief Engineer of Toyota Trucks/Ann Arbor, MI
Samantha Stone
– Toyota Production Engineer
All-Star Driver Lineup:
Andy Bell
– Toyota Athlete/SCORE Baja 500 Champion/Guinness World Record holder/Long
Beach, CA
Jamie Bestwick
– Toyota Athlete/Professional BMX Vert Rider/9-time X-Games winner/Port
Matilda, PA
Ryan Millen
– SCORE Baja 1000 and 500 Competitor/Son of off-road/rally legend Rod
Millen/San Juan Capistrano, CA
Ted Moncure
– Toyota Racing Development Design Engineer/SCORE Baja 1000 and 500 class-champion/Long Beach, CA
Race Truck Specs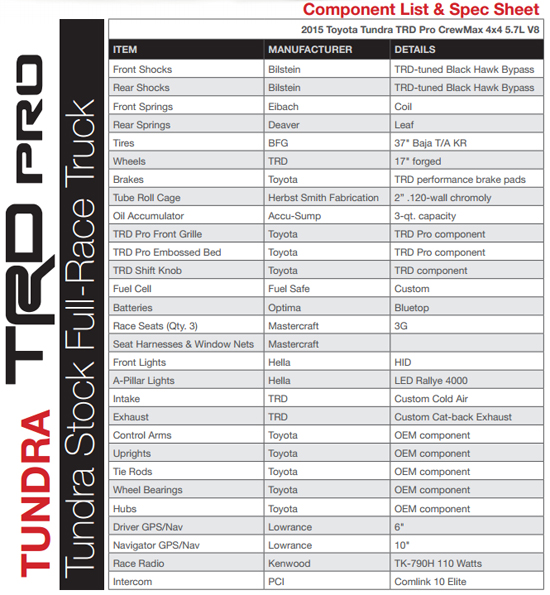 Check out this post for more on the specially fabricated chase vehicles.
Filed Under: Tundra News
Comments (1)