2011 Tundra Tow Ratings Decrease
Jason Lancaster | Aug 23, 2010 | Comments 17
A few weeks ago, we mentioned that the 2011 Tundra was going to adopt the new SAE J2807 towing rating standards. This new standard – which likely won't be adopted by most manufacturers until 2013 – will force all manufacturers to use the exact same tests and criteria to come up with an official tow rating.
Last Friday, PickupTrucks.com published the new Tundra tow ratings. As you can see in the table below, they've dropped as much as 11% on some configurations:
| | | | |
| --- | --- | --- | --- |
| Model | 2010 Tow Rating | 2011 Tow Rating | Decrease |
| 5.7 Regular Cab 2wd | 10,800 | 10,400 | -400 lbs |
| 5.7 Regular Cab 4wd | 10,500 | 10,100 | -400 lbs |
| 5.7 Double Cab 2wd | 10,600 | 10,100 | -500 lbs |
| 5.7 Double Cab 4wd | 10,300 | 9,800 | -500 lbs |
| 5.7 Crew 2wd | 10,400 | 9,900 | -500 lbs |
| 5.7 Crew 4wd | 10,100 | 9,000 | -1,100 lbs |
Here's why the Tundra's ratings have fallen:
1. The new standard requires manufacturers to assume their vehicles are carrying more weight. Under the old system, manufacturers could get away with rating a brand new truck assuming that it was only carrying one person, no extra equipment, no gear, etc. The new standard requires manufacturers to account for the weight of a driver, a passenger, common options, and popular after-market equipment. This will add about 500 lbs (on average) to a vehicle's curb weight, reducing the tow rating accordingly.
2. New ratings assume a standard trailer cross-section and frontal area. If you've ever tried to tow a really big boat, you know that weight isn't the only factor to consider while towing. A trailer with a large frontal surface are can be impossible to tow at or near highway speeds because of aerodynamic drag. The new standard specifies a common cross section and frontal area for all trailers, accounting for drag.
3. The ratings must be backed by severe duty tests. It's not enough to use a standard size trailer and to account for a "normal" payload – the ratings also require all manufacturers to conduct extensive testing and prove that their truck can withstand severe conditions.
As of today, the 2011 Tundra will be the only half-ton truck on the market that adheres to the new SAE towing standards. All the other trucks available in 2011 (again, as of this posting), may or may not meet the standards (pending announcements).
Ram Double-Talk on SAE Standard?
A Ram spokesperson was quoted in the PickupTrucks.com story as saying that the 2011 Ram 1500 "meets the key elements" of the new SAE standard. However, I contacted Ram PR person Nick Cappa about this very question a few weeks ago, and at that time he told me that the Ram 1500 did not meet the SAE standard.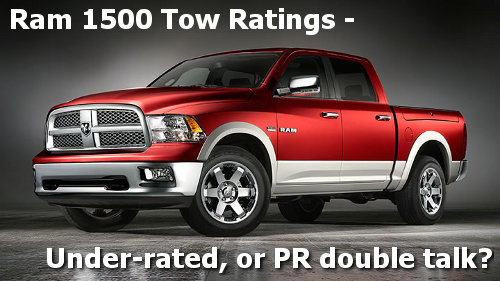 It is certainly possible that the Ram 1500 "meets the key elements" of the standard using the existing tow rating, but it seems highly unlikely. Ram's website has a disclaimer on their 10,450 lbs max tow rating that states the rating is calculated assuming a 150lbs driver and that any additional equipment must be deducted from the rating. This disclaimer doesn't follow the new SAE standard requirements, which dictate that tow ratings should be calculated assuming both a driver and a passenger, common equipment, etc. Because of this fact, it would be expected that the Ram 1500's tow rating would decline once the new standards are adopted.
Ram's statement the 1500 "meets the key standards" seems to contradict the obvious.
This isn't the first time Ram has made some suspicious tow rating statements. The Ram 1500's max tow rating increased from 9,100 lbs in 2009 to 10,450 lbs in 2010, yet according to this PickupTrucks.com story, the 2009 and 2010 Ram 1500 are "identical" and a Ram PR spokesman at that time said "the 2010 Dodge Ram increased its gross combined weight rating by 1,500 pounds without any component or calibration changes to the vehicle."
So, what's the read? Did Ram under-rate the towing capacity on the 1500, or is this simply double talk? Comment below.
Filed Under: Auto News
Comments (17)