Electric Toyota Tundra To Debut At SEMA
Benjamin | Aug 20, 2010 | Comments 9
It's here, it's bold and it runs on…batteries? That's right – an all-electric Toyota Tundra is going to debut at this year's SEMA show, and we here at Tundra Headquarters have managed to snag an exclusive preview of the truck that is sure to have everyone in the industry talking.
On the outside, not much has changed. The electric Toyota Tundra's styling is faithful to its brawny gasoline-powered sibling, with a few notable modifications that should increase its appeal amongst off-road drivers. The addition of knobby all-terrain tires, a lifted suspension and an aggressive grille-guard to this version of the pickup reveal Toyota's crafty plan to snag the trail riders who are often left out of the electric vehicle revolution. The truck also sports extensive off-road lighting options that take full advantage of the additional candlepower produced by the vehicle's battery system.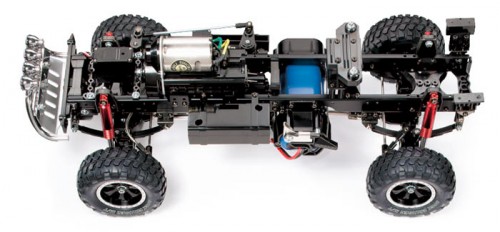 Underneath its skin, the all-electric Toyota Tundra introduces a number of design alterations meant to help take advantage of its new power train. A strengthened C-channel chassis featuring high-impact plastic crossmembers maintain the strength of the full-size truck while introducing serious weight savings. The pickup's bed can pivot up and away in order to allow for easy access to the battery compartment, making maintenance simple and offering the chance for owners to upgrade to a longer-range power pack if desired. The truck's special springs and dampers can also be easily swapped in and out in order to allow for drivers to add or remove stiffness depending upon how rough the off-road going gets.
The truck's steering and transmission have additionally been simplified, with a new single-servo system offering the ability to turn all four wheels if desired (front-wheel steering is of course standard). The transmission is a three-speed unit that features both manual and automatic shifting, and power is sent to front and rear locking differentials to give the four-wheel drive electric Tundra serious traction in all situations.
The icing on the cake when it comes to the new electric Toyota Tundra is the extensive customization program that Toyota is rolling out in support of this ambitious project. A full line of accessories, custom colors, decals and improvements to its rugged suspension system help set the truck apart from other battery-powered vehicles currently out there on the market. Given that the decision to introduce an electric full-size truck is such a game-changer, it is not surprising that Toyota has elected to get behind this superb version of the Tundra in a big way.
Full power and performance numbers are expected to be announced shortly.
If you haven't figured it out already, check this out. Special thanks to MEDic for the river crossing pic.
Filed Under: TundraHeadquarters.com
Comments (9)