Xtreme Lowz Toyota Tundra – Tattoo Paint Job, TV in Dash
Tim Esterdahl | Mar 13, 2012 | Comments 3
While many use full-size trucks for such practical things like towing, hauling and being a work truck. There is always another way to use such trucks like making a low-rider out of it. Yep, a low-riding Tundra with a Tacoma Bed. Don't believe us? Check out the video.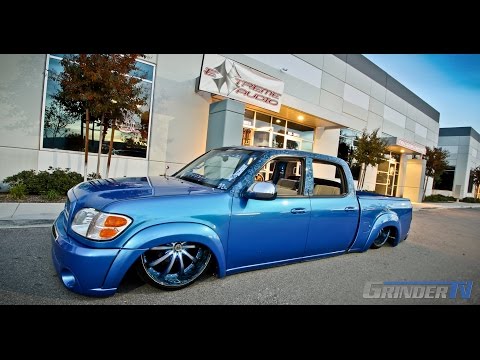 The low-riding truck was customized by Joel Gromit. It is a 2004 Toyota Tundra TRD and is "bagged and bodied on 24″s" from Xtreme Lowz Riverside, California. The video was shot by GrinderTV.
According to the Xtreme Lowz website, the body has been altered with:
Sheet Metal Bed Floor
Body Dropoed Bed
Shaved Moldings
Tubbed for 24s
One Off Lexani Front Grill
Smooth and Painted Bed Rails
Color Matched SEM Bed Liner
Whether you like low-riders or not, it is tough to argue about how nice the paint job came out. The paint consists of:
Color Horizon Real Blue
Fully Airbrushed Roof
Tattoo Style Art
Fully Painted Interior w/Airbrushing
Rims Painted with Airbrushing
All Airbrushing Covered in Candy Blue
How does it get so low? With these parts:
Stock Floor Body Drop
4 Link
Custom Made Drop Spindals and Upper and Lower Arms
Tacoma Rearend
Slam Bags all Around
Bilstien Shocks
Custom Made Wish Bone
Tubbed for 24s
2 Viar 480c Compressors, 10 Gallon Air Tank, 1.5″ Line
Accuair: Valves, Sensors, E-Level
Front/Rear Tires
• 24inch Lexani Rims Fully Painted w/Air Brushing
• Joes Tires 24inch Tires
While this isn't the first, and probably won't be the last, custom low-riding Tundra it is interesting to see what others do with their truck. The tattoo style art work definitely is a conversation piece as well as the many different interior accessories like the TV and steering-wheel.
One thing the video didn't show was how well the seat belts work. Wonder if that was an oversight.
On another note, there is an amusing set of comments on the Youtube page about how much this low-riding truck can tow.  Not really sure towing capacity was what Mr. Gromit had in mind when he customized it.
Related Posts:
Filed Under: Featured Vehicles
Comments (3)