Knowing When To Replace Your Shocks
Jason Lancaster | Oct 27, 2010 | Comments 5
Depending on how you drive your truck and where you drive it, you may not give your shocks a lot of thought. Since shocks tend to "wear" very, very gradually, people often aren't aware that their shocks have gone bad until they're told by the local dealership or auto shop.
As you undoubtedly know, shocks aren't just a part that improves your vehicle's ride. They're an important piece of safety equipment as well. Shocks help to prevent front end dive under hard braking, helping to reduce the amount of force that the front brakes must dissipate and decrease stopping distance. For truck owners, shocks are also important because they help keep large loads (either towed or hauled) manageable during turns, bumps, etc.
You need good shocks to have a safe vehicle. The trouble is, most people – and a fair number of auto technicians – don't really know when it's time to replace a shock and when it's not. There are a lot of simple, amateur tests that you can do to "prove" your truck may or may not need shocks (like the one in the video below), but these types of tests are usually only accurate when the shocks are already in pretty bad shape.
A better way to evaluate shocks is to look at how much hydraulic fluid they've leaked. Shock failure is caused by leakage. While a little bit of leakage is considered normal, once a certain amount of fluid has drained out – or if the fluid has leaked out of the shocks in a very specific way – then it's time for new shocks.
Fortunately, Toyota has given their dealership technicians some clear-cut illustrations that explain when shocks need replaced…and we're sharing them with you.
Front Shocks on Most Trucks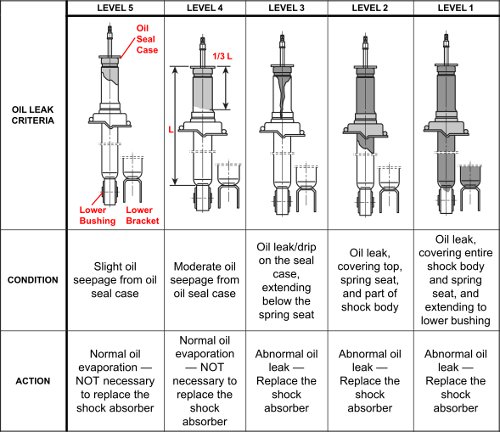 Rear Shocks on Most Trucks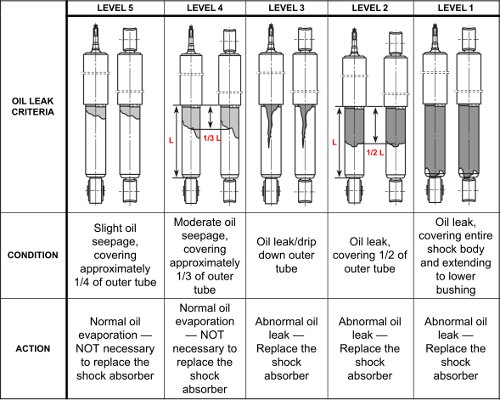 Bonus: Struts on Most Cars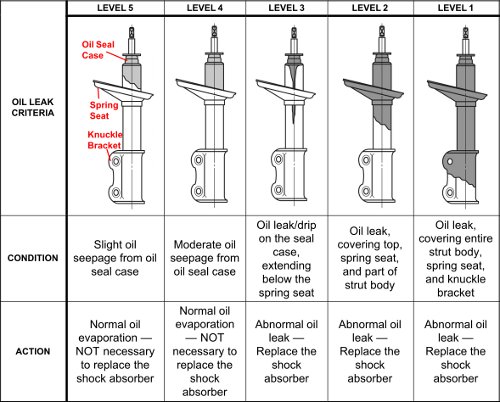 Knowing vs Doing
Personally, I have no ambition to crawl under a car or truck and inspect the shocks for leakage…especially when I know I can do it very easily the next time I visit my local dealership for an oil change and tire rotation. You can either ask to have the shocks inspected, or you can print out the images above and ask to see them yourself.
Also, if you or someone you know is told they need new shocks or struts, some good questions to ask are:
Has the oil seal leaked? This is a trick question. If they say "no", then you probably don't need shocks.
How far down the body of the shock/coil/strut assembly has the leakage progressed? – You're looking for an answer that's greater than 1/3rd the length of the tube/assembly OR a leak at the seams of the shock.
One other thing about paying someone to replace your shocks: Beware the promise of "lifetime" shock replacement. Shocks might need replaced once or twice in a typical ownership cycle. Lifetime replacements are rarely a good investment…unless you have a 77′ Chevy Nova. But that's another story.
Related Post: Toyota Tundra Shock Replacement Options
Comments?
Search terms people used to find this page:
2010 tundra shock replacement
Filed Under: Maintenance Tips
Comments (5)