SpitzLift Cargo Bed Cranes Offer Easy Pickup Truck Loading
Benjamin | Oct 29, 2010 | Comments 2
Your pickup might be good at hauling cargo, but one area where it almost certainly doesn't shine is when it comes time to load or unload any of the gear you have stashed in the truck bed.  With tall sides and a ride height that doesn't exactly encourage OSHA-approved lifting practices, it can be a real pain to stuff your cargo bed with bulky or heavy items.  Even solutions such as ramps can only do so much, as you then either have to transport a dolly with you or resign yourself to walking up and down a gangplank for the duration of the loading process…assuming you can push or ride whatever it is you need to load/unload.
A company called SpitzLift has come up with a tool that aims to solve pickup loading problems in a compact and easy to operate package.  SpitzLift's main product is a small crane that can be mounted on your truck and assist you when it comes to filling or emptying your cargo bed.
There are two versions of the crane available.  The first uses DC electrical power in order to give it a lift capacity of as much as 900-lbs.  It comes equipped with a hand controller that lets you guide the crane from as far as 10 feet away, which allows you keep an eye on cargo while still maintaining a safe distance should a cable snap or the item you are lifting shift unexpectedly.  SpitzLift also offers a manual crane, which is rated to handle the same amount of weight but which requires you to use a system of pulleys to translate human horsepower into mechanical lifting advantage.  Its automatic load control brake activates when lifting a load of 30-lbs or more, and it can be found in three and four-foot editions.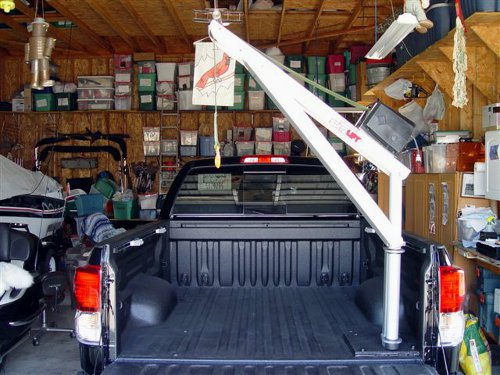 Each SpitzLift crane is also shipped with 15-feet of load webbing which is engineered to resist abrasion and fraying.  You can also choose to forgo the webbing and instead order 50-feet of cable or synthetic rope.  Both cranes are designed to be mounted in one of two ways:  either to the surface of your truck bed (SpitzLift recommends using the rear corner) using a 15-inch mounting plate, or to your pickup's receiver hitch.  The latter solution doesn't require any permanent modifications to your truck, and also makes it easier to remove the crane and use it in other non-pickup related situations.  Each crane folds down in between uses and takes up only a small amount of space in your vehicle's cargo area.
It's easy enough to see the many different applications that a SpitzLift could have, and how it could expand the utility of your Toyota Tundra.  SpitzLift offers several illustrations on its website showing the crane being used to pick up motorbikes and ATV's, but it is also very handy to have when dealing with heavy and unwieldy items such as large gas grilles, propane or welding canisters or even engine blocks.  The SpitzLift is a great way to save yourself some frustration – and a backache – the next time you have to haul a heavy load.
Special thanks to Jim and and his wife Mollie for sending us these photos and telling us about Spitzlift in the first place!
Filed Under: TundraHeadquarters.com
Comments (2)