Ford's New Twin-Turbo V6 F150 Raises Longevity and Reliability Questions
Jason Lancaster | May 24, 2010 | Comments 60
Last week PickupTrucks.com published some spy photos of Ford's 2011 V6 EcoBoost F150. The rumor is that the new engine will be a 3.5L V6 with a twin-turbo setup. Estimates are that this new V6 will have 400+ hp and 400+ lb-ft of torque, but that it will also get an EPA rating of 23 mpg on the highway.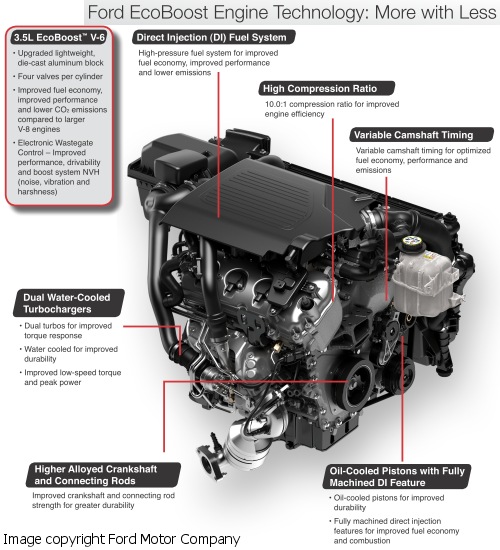 While this new EcoBoost engine isn't going to be "free" – it's a premium option at this point with a hefty sticker price – it's definitely the next killer app in pickups, and an indicator that the entire auto industry may use small-displacement motors with turbochargers to replace larger naturally aspirated motors.
However, as the comments in the PickupTrucks.com post point out, What about longevity and reliability?
First of all, let's get one thing straight: this isn't about bashing Ford's reliability. Ford is just the first automaker that's using turbo-chargers to replace displacement in a pickup. Please don't read this as anything other than a commentary on the future of the industry. Ford deserves a ton of credit for bringing this technology to the table first.
Secondly, it's important to recognize that the truck industry is in a bit of a pickle. Ford invested in EcoBoost engine technology because they anticipated the need to sell trucks that get upwards of 30mpg, which is the recently announced federal fuel economy standard for light trucks. While there are some caveats on that number (it's not going to be 30mpg in real life), the fact of the matter is that trucks have to get about 25% more fuel efficient over the next 6 years. That's not a lot of time.
As a result, automakers are looking towards turbochargers and/or superchargers, variable valve lift and timing, variable displacement, direct injection (both homogeneous like the EcoBoost and stratified like some diesels), HCCI, and other cutting-edge engine technologies to try and get a 25% fuel economy improvement without sacrificing power or features.
Of course, this begs the question: Would you rather have a high-tech V6 that gets great mileage or a significantly less complicated V8 that generates the same amount of power but with worse gas mileage?
We all know that mechanical parts eventually break down. It's obvious that adding parts onto a V6 to make it perform like a V8 probably makes that V6 a little less reliable. We also know that more complicated engines take more time to fix, which means repairs cost more too. There's also the fact that naturally aspirated engines have traditionally lasted longer than turbo-charged or super-charged engines.
In other words, it's a triple whammy: More complexity = better fuel economy, but it also = decreased reliability, longevity, and increased repair costs.
The Fuel Economy Rules Are Different For Every Manufacturer
Over the next 6 years, Ford, GM, Chrysler, Nissan, and Toyota are all going to look at ways to make their engines more fuel efficient in order to meet federal standards. However, fuel economy rules allow manufacturers to use "credits" from sales of electric cars, hybrids, and fuel cell vehicles to offset truck fuel economy.
In Toyota's case, every electric Prius sold will help offset a Tundra that gets less than 30 mpg. If Toyota has success selling cutting-edge cars that are either all-electric or powered by fuel cells, they're not going to be under nearly as much pressure to make the Tundra and Tacoma more fuel efficient…which means their trucks will be less complicated…which means they'll cost less, last longer, and be more reliable.
Or maybe not. No one can predict the future.
In any case, it's important to pay attention to both sides of a manufacturers portfolio – a company that sells a lot of fuel-efficient cars can use that efficiency to offset trucks.
You decide: Will consumers embrace more complex truck engines that get great mileage, or will they buy less complicated trucks for a better price? Please vote and comment below.
Filed Under: Auto News
Comments (60)