Unable to Remove Key When in Park – TSB
Tim Esterdahl | Sep 21, 2012 | Comments 10
Toyota has released a Technical Service Bulletin for an odd situation where you might have a problem removing your key after putting your truck in park and turning off the engine. The problem is limited to 2010-2012 Tundra models with a column shift automatic transmission/transaxle with a column shifter.
TSB-0094-12 says that the problem can be found in both 2-wheel and 4-wheel drive models, with either the 5-speed or 6-speed automatic transmission, and Regular, Double or Crew Cab models. A listing of the models affected is below.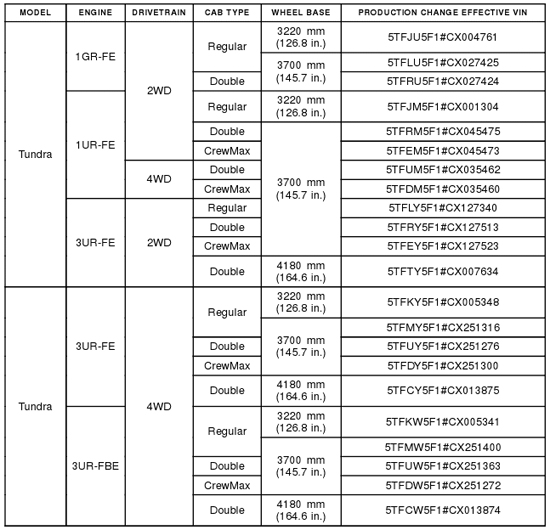 If your truck is one of the affected vehicles, contact your local dealer to make arrangements to bring your truck in. As with any TSB's the repair is covered within Toyota's Comprehensive Warranty, 3 years or 36,000 miles whichever occurs first.
The TSB repair process is as follows:
Confirm the condition to see if the key is sometimes difficult to remove
If it is determined that the problem exists, remove the shift lever assembly (Depending upon the year and model, there are specific repair manuals for their use.)
Remove the three wire guides and wire harness clamp
Carefully release the connector housing retainer and locking lug of terminals 5, 6, and 12 of the 14 pin connector, and then remove the terminals from the rear of the connector
Remove the 2 screws holding it, and then remove the column shift control lever retainer
After removing the Key Interlock Solenoid Connector and the 14 Pin Connector from the new Transmission Control Switch, it will be carefully reattached
The new switch will be reinstalled using the 2 screws to reattach the column shift control shift retainer
Terminals 5,6, and 12 will be securely reconnected to the original transmission control switch connector, and the connector housing retainer will be re-seated
The three new wire guides and the wire harness clamp will be reinstalled
The shift lever assembly will be reinstalled using the model year Repair Manual
Confirm that the repair is complete
If you have any other questions regarding this problem, please do not hesitate contacting your local Toyota Dealer.
Filed Under: Tundra News
Comments (10)