Tundra Tailgate Design Flaw Update
Jason Lancaster | Oct 11, 2007 | Comments 14
In response to some questions about our last Tundra Tailgate post, we've done some more investigating, and we think we've figured out how why you should never drive with your Tundra's tailgate unsecured.
1. The gas strut assist.
The Tundra's tailgate is slam-proof because a gas strut (hidden inside the wall of the bed) reduces the effect weight of the tailgate as well as dampens any rapid movement. There is an un-intended consequence here: if the tailgate isn't secured (i.e. in the closed position OR locked in the down position by the bed-extender or some weight) it may "levitate" at the removal angle.
2. Tailgate removal without tools.
Try this experiment: Lower your Tundra's tailgate. Now, with it in the down position, "throw" the tailgate up into the air. When you get the force right, you'll find that it will "hover" at about a 45 degree angle for a second or two. Keep in mind that 45 degrees is the angle you need to hold the tailgate at in order to remove it. In fact, hold the tailgate in this position and see just how easy it is for your to remove it manually. It needs just a slight lifting motion and it's off the truck.
3. The right combination of bumps/motions will cause the tailgate to fall out.
With your tailgate hovering in the removal position, all it would take is a sudden motion that would cause your truck to lurch forward. For instance, when you hit a pot-hole, your truck first drops suddenly as it falls into the hole (thus raising your tailgate). When your truck hits the back side of the hole, your truck is not only suddenly pushed up but it is also pushed back. This backward force could be enough to dislodge the tailgate.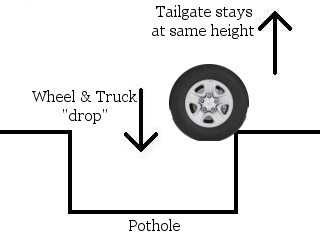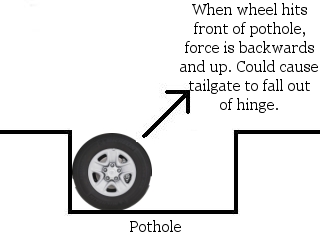 How we think unsecured tailgates can fall off of the Toyota Tundra.
4. Toyota warns you not to drive tailgate down.
If our explanation isn't enough, check out page 35 of your owner's manual. That's as good of a confirmation of a flaw as you'll see from an auto manufacturer.
Bottom Line: Our previous tailgate warning was incorrect – you can drive with your tailgate down, but only if it's locked into that position by the bed extender or the load you're carrying. Otherwise, you should drive with the tailgate up. If it's free to move, there's a chance it will fall out. Thanks again to Glenn for bringing this to our attention. Also, while we're on the subject, you should always lock your tailgate when you park your truck outside (the tailgate is just too easy to steal).
Filed Under: Tundra News • Tundra Recalls
Comments (14)