Toyota Tundra TRD Dual Exhaust Product Review
Jason Lancaster | Oct 03, 2007 | Comments 35
A lot of new Tundra owners upgrade their exhaust systems. In fact, it's probably the most popular accessory that people add to their new trucks. Fortunately (or unfortunately, depending on how you look at it) there are literally HUNDREDS of options. Big names like Borla, Flowmaster, Gibson, and TRD all offer kits for the new Tundra. Of course, if you don't want to spend that kind of money, or if you like the idea of a custom kit, you can visit your local muffler shop and talk to the experts, and you can even order parts on the internet and install them yourself. Like we said, LOTS of choices.
However a lot of people like to go as "factory" as possible when choosing accessories, and we can certainly understand why. First of all, it's very easy. If you've bought a Tundra, chances are you trust Toyota to make a good product. You can rest assured the TRD exhaust system is a good choice. Secondly a lot of people like factory-backed accessories because they know their won't be any warranty concerns. Unlike adding an after-market kit, where the directions clearly state "this may violate your factory new vehicle warranty", you know that a new kit from TRD isn't going to cause any warranty problems. Finally, there's just something to be said for having a very "stock" look and feel, even if you have added a bunch of extras.
Whatever your motivation, TRD's kit is definitely a good choice. To start with, the kit is solid mandrel-bent 409 stainless. 409 stainless is about as good a material as you could ask for, and the mandrel-bent manufacturing process means that any bends in the tubing were done without compromising strength or shape. Since preserving the round shape of the pipe enhances flow, it's always important to make sure a kit is mandrel bent. Finally, the TRD dual exhaust kit includes double-walled stainless steel tips with an engraved TRD logo. Nice. Looking at a brand new kit, it's clear that TRD didn't go cheap.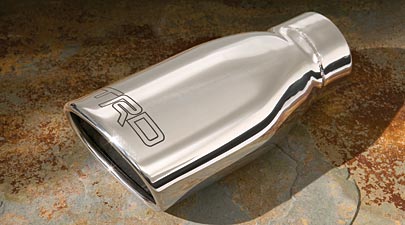 Installation is also about as easy as they come. This is literally a bolt-on kit. The hardest part of the installation is removing the factory system and dealing with those pesky hangers. If you wanted to, you could definitely put this kit on yourself with basic tools. If you wanted to have someone install it for you, it shouldn't cost more than $100-$150. Most technicians can have this kit on in under two hours.
Like all after market accessories, there is a lot of argument about just how much power this exhaust kit adds. Generally speaking, after market exhausts by themselves offer little in the way of additional power. Typically, the most you'll see is a 3-5 hp gain with just about any cat-back system. The TRD kit is no exception — our tests show that the TRD Dual Exhaust for the new Tundra added anywhere from 1 to 5 hp. Unfortunately, the increase in horsepower varied quite a bit depending upon RPM. That's why we like that "3-5hp" number. Check out the dyno performance graph below.
NOTE: Our dyno tests were conducted in 5th gear, and we truncated the RPM range to ensure that the comparison was as accurate as possible. Unfortunately, tests had to be conducted on different days due to time constraints at the dyno shop. We expect a margin of error of +/- 1 hp.
If the horsepower number doesn't excite you, when you factor in the feeling you get when you step on the gas, you will feel like adding an exhaust is the best money you ever spent. The TRD kit is excellent in terms of sound — little or no additional noise at idle (almost imperceptible at true idle — very impressive), minimal highway "rumble", and absolutely fantastic sounds at W.O.T. This kit was designed by Toyota to provide the sound that a lot of V8 owners crave while still being quiet enough to preserve the truck's finer qualities. This perfect balance of sound is easily the TRD kit's best attribute.
Here's some video of the truck's exhaust — make sure your speakers are on for this one: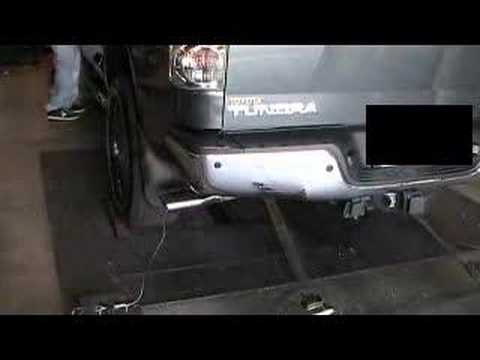 Check out this Tundra Solutions thread for more TRD exhaust sound clips (props to mxsjw for posting those sound files).
Like we said in our Toyota Tundra exhaust guide, adding an exhaust system alone isn't going to get you much power. But if you combine the exhaust system with any other upgrades (like a cold air intake), you'll likely see a multiplying effect for both. As for adding this kit to your truck, we'll tell you that the list price of the TRD exhaust kit is $1,154. Some other big names offer kits that are very comparable for less money. We'll also say that your local muffler shop can probably build you a custom system from scratch for even less than any of the kits you'd buy online, and that your local shop will build a system with equal or better performance than any pre-fabricated kit. In other words, the TRD kit is a little too expensive for our tastes, especially when compared to the local muffler shop. However, if you're only interested in pre-fabricated cat-back systems, the TRD is an excellent choice.
Don't get us wrong — the TRD kit is quality, backed by Toyota, and as good as anything you'll find. In fact, we're willing to bet this kit's sound aspects are probably the best on the market (but we can't back that up until we do some more testing). "If you have the means, we highly recommend it." [Incidentally, we were able to find some discounted pricing for the TRD exhaust. We're working on getting it for our readers, so stay tuned.]
Bottom Line: The Toyota Tundra TRD Dual Exhaust is excellent, but it's a little overpriced. If you want to add a quality, factory-backed exhaust system that won't make your truck sound like a dragster, the TRD product is an excellent choice.
Filed Under: Toyota Tundra Accessories • Tundra Exhaust
Comments (35)