Ten Clever Ways To Customize Your Truck
Jason Lancaster | Mar 30, 2012 | Comments 3
Let's get one thing straight – there's no practical reason to customize a perfectly good pickup. The way the factory made it is good enough for almost every use. If you don't see a reason to install flat-screen TVs and neon lights, then you won't enjoy this article.
OK – now that that all the fuddy-duddys are gone, here are 10 clever customization tricks we've seen:
1. Flipped tailgate handle. This is a pretty common trick, but it's still very cool. Basically, the tailgate handle is moved from the outside of the tailgate to the inside. The outside of the tailgate is then perfectly smooth – which makes it easier to do some cool paint or graphics, not to mention confusing anyone who tries to use the tailgate.
2. Electrically activated doors and tailgates. This is a common trick on hot-rods that we see on trucks every now and again. Hot rod owners often like to remove door handles from the doors completely, instead using an electric latch with a remote. Pretty cool, and the kits are readily available.
3. In-car LEDs. LED lights are amazing because they are:
Available in every color
Available in various degrees of brightness
Very small
LEDs are perfect for some in-car lighting effects – everything from some ambient footwell lighting to color-changing cup holders to elaborately color-accented storage bins. Some LEDs even have color-changing abilities, so you can shift from "red mode" to "blue mode" at the flick of a switch. Check them out on AutoAnything.com.
4. Power step bars. It's not really revolutionary, but it's still an eye-popping effect to the average person. It's really nice on big lifted trucks where you want to emphasize the height of the truck while still making it easy to get in and get out – check out our review of AMP's power step bars for more info.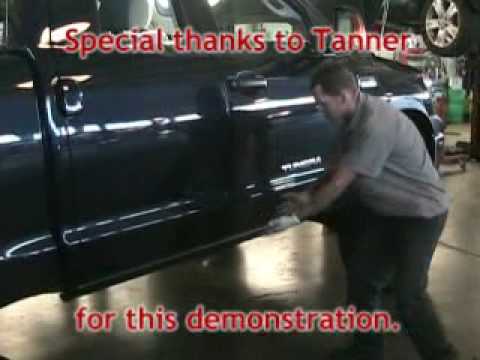 5. Truck bed audio with custom enclosure. This is the ultimate pickup-truck sacrifice – instead of using your truck's bed to haul "stuff," you convert it into a giant speaker box. Toss a tonneau cover on top, and you've got a giant weatherproof mobile stereo. Of course, mounting half a dozen speakers means adding amplifiers, capacitors, and an extra battery to make it all go. This mod is for dedicated audiophiles with money to spend.
6. Custom leather seats. Katzskin makes leather upholstery kits for almost any vehicle. They fit exactly like the stock upholstery covers (either fabric or leather), and they're available in hundreds of custom configurations. You could:
Get a set of white leather seats with some red piping, toss in some red shag carpeting, and it's 1972 all over again.
Have a custom vehicle logo embroidered into every head rest that says "2 Wicked" (Note: the first person to correctly identify the 2 wicked reference gets a free t-shirt).
Get some TRD logos stitched into the seats (you just might have to order the leather through your local dealer)
While you're at it, go ahead and install seat heaters when you do the custom leather. They're pretty inexpensive to install along with leather since the stock seat fabric is being pulled off anyways.
7. Universal-fit rear-mounted truck turbo. This might sound like a crazy idea out of left-field, but it's relatively simple to add a turbocharger to any pickup. There's a fairly inexpensive universal kit from Squires Turbo Systems that you can learn more about here.
You'll gain 50-100hp, plus the sweet sound of a turbo spooling up the next time you haul the boat to the lake.
8. Line-x or Rhino Liner on rocker panels, bumpers, step bars, and interiors. This definitely falls into the off-road side of customizations, but a lot of truck owners like to put a bit of spray-in liner compound on their truck's bumpers, the bottom 2 or 3″ of their truck's body panels (like a two-tone paint job, only cooler), the factory step bars, fender flares, and we've even seen Line-x instead of carpet on the interior.
9. Airbrushed engine covers, console covers, and interior panels. The engine cover on most new vehicles is completely for show…the only benefit it provides is sound deadenging. Therefore, there's no reason you can't have it decorated.
Same thing goes for the center console, door panels, dash panels, etc. Obviously it's expensive to do the whole car, but getting one item airbrushed is surprisingly inexpensive and a very nice touch.
10. In-dash computers. In-dash or in-vehicle gaming systems have been all the rage for a while now, but the next iteration is to install fully functional tablet PCs in-dash along with a mobile wi-fi card. These tablets can be used for games, watching DVDs, and just about everything you can do on a regular old computer. These tablets can also be interfaced with your vehicle's data port, so you can see real-time fuel economy data, chart engine variables like RPM, transmission temp, tire pressure…the list goes on and on.
Best of all, you might actually be able to convince someone that an in-dash computer has some real-world business value. Imagine the possibilities!
Filed Under: Toyota Tundra Accessories
Comments (3)