Toyota/Lexus News October 14, 2016
Tim Esterdahl | Oct 14, 2016 | Comments 0
Here is your Toyota/Lexus news for October 14, 2016.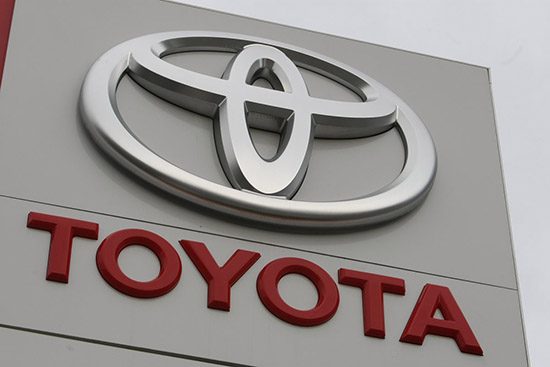 CEO Jim Lentz Gives Sneak Peek at the New Toyota; Automaker seeks more than 1,000 new team members
Under a canopy of construction cranes, Toyota Motor North America CEO Jim Lentz provided a preview of the new Plano campus to local media, officials and business leaders. The update covered construction progress, the organization's hiring needs, and a tour of the tech-driven and environmentally sustainable campus.
Press Release: https://pressroom.toyota.com/releases/plano-hq-campus-ceo-sneak-peek-oct13.htm
Infographic: https://pressroom.toyota.com/releases/2016-toyota-plano-hq-web.htm
All-New 2017 Toyota Tacoma TRD Pro Voted Mid-size Truck of Texas by Texas Auto Writers Association
The 2017 Toyota Tacoma TRD Pro showed off its off-road prowess at the 2016 Texas Auto Writers Association's (TAWA) Texas Truck Rodeo, winning the Mid-size Pickup Truck of Texas award.
https://pressroom.toyota.com/toyota/releases/2017-toyota-tacoma-trd-pro-midsize-truck-texas-auto-writers-association-rodeo.htm
Toyota One of Best Global Brands According to Interbrand
Toyota is the most valuable automaker and top global Asian brand according to Interbrand's recently released 2016 "Best Global Brands" report.  In addition to once again earning the title of most valuable automotive brand in the world, Toyota also became the first Asian company and only automaker to reach a top-five spot on the list. Interbrand estimates Toyota's 2016 brand value at $53.58 billion, up 9 percent from 2015.
https://pressroom.toyota.com/releases/toyota-interbrand-global-brands-2016.htm
Toyota Family Teacher of the Year Award Winner, Runner-up Arm Parents With the Tools to Improve Children's Academic Outcomes
A Weymouth, Mass. community educator was named 2016 Toyota Family Teacher of the Year by the National Center for Families Learning (NCFL) and Toyota. Jean Ciborowski Fahey was honored for her efforts to educate parents of babies and young children about reading and brain development. Central to Ciborowski Fahey's outreach strategy is a book she wrote, "Make Time for Reading: a story guide for parents of babies and young children."  Ciborowski Fahey will use the $20,000 grant from Toyota and NCFL to reprint her book in English and Spanish, which will enable her to reach nearly 7,000 more parents.
https://pressroom.toyota.com/releases/2017-toyota-family-teacher-of-the-year-award-winner-runner-up.htm
Toyota Announces Return of Dream Car Art Contest
Toyota Financial Services (TFS) announces its 6th year of hosting the worldwide Toyota Dream Car Art Contest in the United States, which is designed to inspire creativity in youth and encourage an interest in the automotive industry. Now thru Tuesday, January 31, 2017, U.S. youth, ages 4-15, can submit hand-drawn artworks featuring unique concepts of their "Dream Car." Applicants are sorted into three age categories (4-7 years; 8-11 years; 12-15 years). Judging is based on three criteria: execution of concept; uniqueness; and artistry. For official rules and required entry forms, visit www.TFSintheCommunity.com/DreamCar.
https://pressroom.toyota.com/releases/toyota-announces-return-of-dream-car-art-contest.htm
Millennials & Manufacturers Mesh on Manufacturing Day at Toyota Bodine Aluminum
More than 2,300 manufacturers from across the nation joined Toyota Bodine Aluminum by opening their doors to offer students insightful, onsite experiences and educate them about potential careers in manufacturing.
https://pressroom.toyota.com/releases/bodine-manufacturers-day-2016.htm
Also worth noting…
Suzuki and Toyota to Explore Business Partnership – Suzuki Motor Corporation (Suzuki) and Toyota Motor Corporation (Toyota) announced that both companies have agreed to start exploring ideas that are directed towards a business partnership.  https://newsroom.toyota.co.jp/en/detail/13868901/
Toyota Provides Status Report on the Driving Barista Application Project Which Aims to Prevent Smartphone-Related Traffic Accidents – Toyota Motor Corporation (Toyota), Komeda Co., Ltd. (Komeda), and KDDI Corporation (KDDI) have been running a project that utilizes a smartphone application called Driving Barista. The project aims to reduce the number of traffic accidents in Aichi Prefecture which are caused by drivers using their smartphones while driving. During the 17 days between September 20 to October 61, the application was downloaded about 37,000 times and was used to record about 2.6 million km of distance driven. This means that a cumulative distance equivalent to about 65 trips around the earth, or about 7 round trips from the earth to the moon had been driven safely by drivers while refraining from using their smartphones.https://newsroom.toyota.co.jp/en/detail/13877286/
Filed Under: Auto News
Comments (0)