Toyota/Lexus News June 3, 2016
Tim Esterdahl | Jun 05, 2016 | Comments 0
Here is your news recap for June 3, 2016.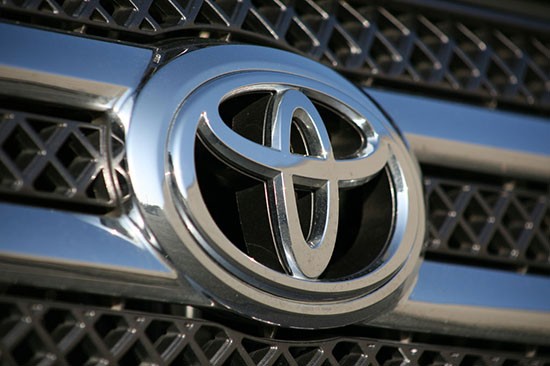 Toyota Reports May 2016 Sales, Sees SUV Surge
Toyota Motor Sales (TMS), U.S.A., Inc., reported May 2016 sales of 219,339 units, a decrease of 9.6 percent from May 2015 on a volume basis. With two fewer selling days in May 2016 compared to May 2015, sales were down 2.0 percent on a daily selling rate (DSR) basis. Toyota division posted May 2016 sales of 192,657 units, down 9.5 percent on a volume basis, and 2.0 percent on a DSR basis. Lexus posted sales of 26,682 units, down 10.1 percent on a volume basis, and 2.6 percent on a DSR basis.
Press Release: https://pressroom.toyota.com/releases/toyota-lexus-scion-may-2016-sales-release.htm
Sales Chart: https://pressroom.toyota.com/article_display.cfm?article_id=5604
Toyota and KDDI to Jointly Promote Establishment of Global Communications Platform to Support Car Connectivity
Toyota Motor Corporation (TMC) and KDDI Corporation (KDDI) have partnered to establish a global communications platform. The platform will enable the operation of communications networks throughout the world to support car connectivity. Toyota aims to bring greater connectivity to its vehicles throughout the world. To do so, a broad-reaching, robust communications platform and the use of a uniform data communications module (DCM) will be essential. Toyota will develop such globally uniform DCMs by 2019. DCMs will be the standard equipment in nearly all new Toyota and Lexus vehicles sold in Japan and the U.S. by 2020, and will gradually be installed in a range of new vehicles in other major markets over time.
https://pressroom.toyota.com/releases/toyota-kddi-global-communications-car-connectivity.htm
Parents Magazine and Edmunds.com Rank Toyota Sienna a Top 10 Family Car of the Year
Edmunds.com and Parents Magazine have named Toyota's long-cherished minivan one of the 10 best family cars of the year, and the winner in the Best Minivan category. The "Best Family Cars of 2016" feature appears in the July 2016 issue of the magazine, as well as on Parents.com. Rankings were based on factors including quality of ride; safety; comfort and capacity; fuel efficiency; kid-friendly features; price and value; reliability; interior and exterior workmanship; visibility, controls and instrumentation; and attributes such as appearance, ergonomics and special design features that set the cars apart.
https://pressroom.toyota.com/releases/parents-edmunds-toyota-sienna-top-10-family-car-year.htm
Toyota Safety Package 'TSS-P' Wins Top Technology Award From New England Motor Press Association
Advance safety features for the masses: it's a bold promise, but beginning with the 2018 model year Toyota will make Toyota Safety Sense, a driver-assist technology designed to mitigate or help prevent collisions, standard on almost every Toyota trim level in the United States. That promise was recognized last Thursday when the most advanced version of Toyota Safety Sense—TSS-P—won the New England Motor Press Association (NEMPA) Yankee Cup Technology Award. Toyota accepted the award at NEMPA's sixth annual conference and banquet, held at the Massachusetts Institute of Technology Media Lab in Cambridge. In addition to TSS-P's recognition, NEMPA bestowed Winter Vehicle Awards to the Toyota RAV4 Hybrid and Toyota Tacoma, in the Green Crossover and Midsize/Compact Pickup Truck categories, respectively.
https://pressroom.toyota.com/releases/toyota-safety-package-tssp-award-nempa.htm
RAV4 Gets Ready to Conquer Susquehannock Trail Performance Rally; Millen and Rally RAV4 Attempt to Make it Three Wins in a Row
The only thing better than winning a rally is winning two rallies.  Winning them back-to-back is even sweeter.  And now, after taking the 2WD crown at the last two events, Ryan Millen, Christina Fate, and the Rally RAV4 are looking to make it three in a row this coming weekend at the Susquehannock Trail Performance Rally (STPR) in Wellsboro, Pa. The RAV4 currently leads the 2WD national points standings with a five point margin over second place, and Ryan Millen plans to do everything possible to stay on top for the championship hunt.
https://pressroom.toyota.com/releases/toyota-rav4-rally-susquehannock-2016.htm
Also worth noting…
Prince Albert II of Monaco opens the Grand Prix of Monaco in a Toyota Mirai – Prince Albert II of Monaco selected the Toyota Mirai, the world's first fuel cell sedan, for his lap of honour to open the 2016 Monaco Grand Prix this past weekend. Accompanied by his wife Princess Charlène, Prince Albert II of Monaco chose the Mirai to reiterate his intention to make the Principality of Monaco a pioneer in the field of sustainable mobility. https://newsroom.toyota.eu/pressrelease/5106/1/his-serene-highness-prince-albert-ii-monaco-opens
Toyota to Restart Production on All Vehicle Assembly Lines in Japan – All of Toyota's vehicle assembly lines in Japan will restart production on

June 6

. Toyota is assured of parts supply stability and shortages resulting from the severe earthquakes that struck Japan's island of Kyushu in April have been eliminated. Furthermore, the explosion which occurred at Advics Co. Ltd's Kariya Plant in Aichi prefecture on May 30 led to suspension of production on some lines between May 31 and June 1 due to parts supply shortages and all operations suspended in relation to this incident recommenced on June 2.https://newsroom.toyota.co.jp/en/detail/12267679/
Filed Under: TundraHeadquarters.com
Comments (0)