Toyota Unveils Tundrasine Concept at 2015 SEMA Show
Tim Esterdahl | Nov 04, 2015 | Comments 8
While wandering around the 2015 SEMA show yesterday, I literally turned the corner and ran into this "Tundrasine" concept. Pictures don't do this vehicle justice.
Toyota says they built the concept specifically for SEMA to showcase how far you can take a full-size truck.
"SEMA members take their vehicles to extremes, and Toyota definitely goes to a new extreme with the Tundrasine. It stretches beyond what is normally expected of a stock Tundra," said Steve Appelbaum, National Engagement Marketing Manager, Toyota Motor Sales, U.S.A. "SEMA is the perfect event to debut this concept vehicle that takes the best of Tundra and turns it into the pinnacle in executive transport . . .  limo style."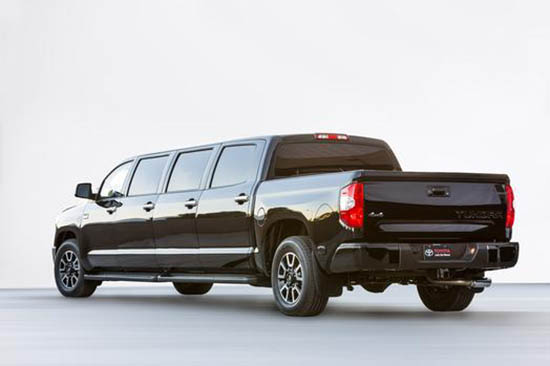 In order to build the truck, they took a stock Toyota Tundra 1794 Edition 4×4 CrewMax 5.7L V8 pickup and added on. I mean, really added on. The limousine truck measures out at more than 26 feet in length with a wheelbase of 235.9 inches.
The exterior is painted Midnight Black Metallic, and its "eight doors open to reveal a custom and functional brown leather interior, inspired by the cockpits and passenger compartments of luxury private jets," according to a Toyota press release.
"People have seen plenty of limousines before, but never one quite like the Tundrasine," said Appelbaum.
If you go to SEMA, the Tundrasine can be seen November 3-6, 2015, in the Toyota display booth (#24700) located in the Central Hall of the Las Vegas Convention Center.
It was quite hard to get photos of this beast with the show floor being so full. Here are a collection of Toyota provided photos.
Fast Facts
Base vehicle:              Toyota Tundra 1794 Edition 4×4 CrewMax 5.7LV8
Exterior color:             Midnight Black Metallic
Interior color:              Brown leather
Wheelbase:                 235.9″ (+ 90.2″ vs. stock Tundra CrewMax)
Overall length:            319.1″              (+ 90.2″)
Overall height:            76.2″                (no change)
Overall width:             79.9″                (no change)
Track (front/rear):       67.9″/67.9″      (no change)
Curb weight:               7,978 lbs.         (+ 2,288 lbs.)
Filed Under: Tundra News
Comments (8)