Toyota Tundra More American Than Silverado AND Ram
Jason Lancaster | Jul 28, 2008 | Comments 19
Twice a year, Cars.com creates a list of the "Ten Most American Cars." Last year, we talked about how the Tundra was more American than the Dodge Ram. This year, we can talk about the fact that the Tundra is more American than both the Dodge Ram AND the Chevy Silverado.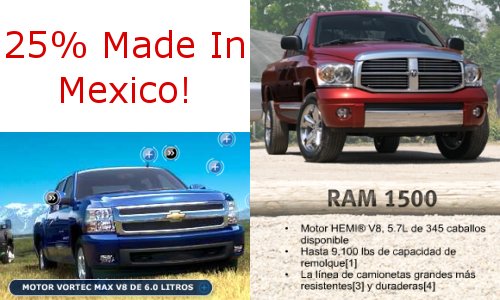 The Ram and Silverado are more than 25% percent made in Mexico, making them less American than the Toyota Tundra according to Cars.com.
Cars.com calculates which vehicles are "most American" based on production location, percentage of domestic parts content, and American sales volume for each vehicle.
Evidently, Chevrolet had to increase truck production in Mexico due to a strike at one of their U.S. axle plants. Because the strike lasted so long, Chevrolet's production mix shifted dramatically outside the U.S. Last year, the Silverado was the 2nd most American truck. This year, it's fallen behind the Tundra.
Here's the list (courtesy of Cars.com):
Ford F150
Chevy Cobalt
Chevy Malibu
Pontiac G6
Toyota Tundra
Toyota Sienna
Honda Odyssey
Chevy Silverado 1500
Chrysler Sebring
Ford Explorer/Sport Trac
So, to all you Chevy and Dodge truck owners talking smack about the "foreign-made" Tundra, we would like to state the following:
1. The Tundra is just as "American" as any Chevy or Dodge truck, based on where it's made and the percentage of parts made in the U.S. Stop claiming otherwise because you're wrong.
2. Dodge and Chevy manufacture more of the parts on their vehicles in Mexico than in any other country. Mexican autoworkers are not sending checks to their US counterparts (last time we checked), so you're hurting the American autoworker by not driving a Tundra.
3. If you drive a Dodge or Chevy, please tape a "Made in Mexico" sticker to at least 25% of your truck.
4. Relax – we're only teasing. The truth is that the difference in which truck is more "American" isn't too substantial – it's just a stupid list. Just stop talking trash about the Tundra already…it's getting old.
Filed Under: Auto News
Comments (19)