Tundra Transmission Flush and Refill Instructions
Here's instructions on how to check and fill your 2007 and up Toyota Tundra transmission fluid: tundra-transmission-fluid-flush-tsb
And here's the best advice anyone will ever give you about transmission maintenance:
3 Golden Rules of Automatic Transmission Maintenance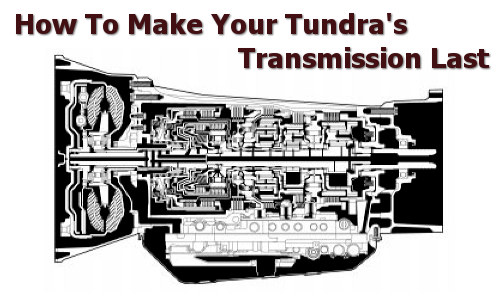 1. Do not 'flush' an automatic transmission. Drain and then refill it. "Flushing" a transmission via some machine is a bad idea because:
As time goes by, various particulates (clutch material, sludge, etc.) accumulate inside your transmission
Most of this accumulation settles into the nooks and crannies of the transmission valve body
If fluid is forced thru the transmission, it disturbs the accumulation
If the "power flush" is sufficiently powerful, it will dislodge years worth of particulates all at once
As you can imagine, years worth of particulates floating around in some fresh transmission fluid are bad for your transmission. These particulates can even lead to failure.
So, tell the shop not to flush the transmission. Just drain and refill.
NOTE: Draining doesn't get rid of all the fluid in the transmission – it's true. Something like 1/5th of the old fluid remains in your transmission. As bad as that is (not that bad), it's much better than disturbing all the "gunk" that's harmlessly settled away inside your transmission.
2. Do not change fluid more than the factory recommends. While new fluid will not harm your transmission, the process of draining and then refilling it is not always followed correctly. Many shops will complete this process incorrectly, in fact, which is why Toyota issued the TSB we're sharing above.
Think about it this way: If Toyota has to explain the proper process to their dealers, odds are good someone is going to screw up your transmission service if you give them a chance.
Therefore, do not change your fluid any more (or less) than recommended by the factory maintenance manual.
3. Do not listen to people who's advice disagrees with the factory. Toyota has a global reputation for quality. If Toyota says that you should not "flush" your transmission (and that is precisely what they say), than you should not flush the transmission.
Unfortunately, a LOT of people (be they independent mechanics, dealership service advisors, or internet know-it-alls) recommend flushing your transmission and/or draining and refilling it more than recommended. If you encounter one of these people, take their advice with a grain of salt.
Bottom Line: Consult your maintenance manual. All the answers to your maintenance questions are in there.
Search terms people used to find this page:
https://tundraheadquarters com/toyota-tundra-how-to/transmission-flush/
IS THE TRANSMISSION ATTACHED TO THE RADIATOR ON A 2005 TOYOTA TUNDRA
toyota 2007 tundra 7 7 transmission fluid change
Comments (89)