Toyota To Make Instant Fuel Economy Gauge Standard
Jason Lancaster | Jan 10, 2008 | Comments 2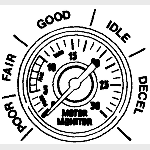 Anybody remember the "motor minder vacuum gauge"? It measured the amount of vacuum in the intake manifold on a carburated vehicle. The more vacuum in the intake manifold, the less fuel being burned (and thus the better your fuel economy). So, if you watched the vacuum gauge while you drove and tried to keep it as high as possible, you could improve your fuel economy. They were fairly common in the early 70s, but they mostly disappeared in the early 80's when electronic fuel injection made them obsolete.
Fast forward to 2008.
Many vehicles now feature an instant fuel economy gauge, including the Tundra. If you're fortunate enough to have one, you know that your truck gets TERRIBLE fuel economy under hard acceleration (try 1-2mpg), but TREMENDOUS fuel economy while coasting (like 80mpg). If you watch it closely, and change your driving habits, you'll improve your gas mileage.
Toyota reports on their Open Road Blog that Prius drivers who watch their "instant fuel economy reading" achieve 5-10% better fuel economy than drivers who don't watch it. This evidence is so compelling that Toyota will make instant fuel economy gauges standard on all their vehicles in the next few years, calling the gauges "Eco Drive" indicators.
The "Eco Drive" will include some sort of graph showing how efficient your throttle position is, an indicator that would light up when you're driving efficiently, and a constant instantaneous fuel economy reading.
Sounds like a nice feature. Toyota is always "moving forward", aren't they…
For more Tundra fuel economy information, see the following posts:
What's with the Tundra's gas tank reserve? According to my calculations, I'm only getting 10mpg!!
Disappointed in your new Tundra's fuel economy?
7 Tips for better Tundra gas mileage.
Which gas is better for your Tundra – Premium or Regular?
Filed Under: Tundra News
Comments (2)