Toyota Building Prius-Flavored Pickup?
Jason Lancaster | Sep 27, 2010 | Comments 14
This week's Automotive News breaks down Toyota's product plans for the next few years, including supposed plans for a Prius branded compact pickup – likely based on the A-Bat concept pictured here: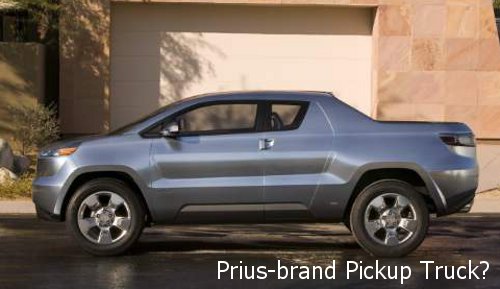 A truck based on this concept has been rumored for some time – a hybrid version has been hinted at over the last few years, and Scion President Jack Hollis has hinted at a Scion version of the A-BAT concept for a few months now.
Here's what we think:
1. Small, car-based pickup trucks seem unlikely to succeed in the US market. As we have detailed previously, American consumers expect their trucks to have power and towing capacity sufficient for a small boat, ATV trailer, etc. That means that a Scion or Prius pickup needs to tow 5k lbs with good power, but it's hard to envision a hybrid pickup that could meet those specs without costing at least $30k.
At that price point, consumers are going to be weighing the fuel economy benefits of a Prius or Scion pickup against the diminished capability compared to a similarly priced full size. Unless the fuel economy numbers are awesome – and that would be 25mpg overall or better – the cost-benefit of an expensive hybrid pickup with limited capability seems like a tough sell.
2. The Scion version might be gas only and cheap. This is Toyota's best bet – an inexpensive car-based truck that offers young consumers utility and lots of customization options seems like a smart idea. Frankly, the Jeep Wrangler already occupies this niche – but a Scion pickup, unlike the Wrangler, has some practical real-world application. If a 22 year old consumer fresh out of college can get a cool little AWD Scion pickup for $20k + extras, Toyota will have a winner.
3. Is the truck going to offer 4WD or just AWD? If the Scion/Prius pickup offers 4×4, it has a chance at capturing some off-road enthusiasts. If it comes in AWD, the off-road segment will lose interest. If it comes in FWD only, how many consumers will want it?
4. This truck is coming. We can't get any confirmation (yet), but there's every reason to believe Toyota will build this pickup as a Scion and Prius. There have been far too many rumors from reputable sources to believe otherwise.
Here's to Toyota's next pickup!
Filed Under: Auto News
Comments (14)