Toyota Entune System – Preliminary Review
Jason Lancaster | Jan 07, 2011 | Comments 18
At the 2011 Consumer Electronics Show, Toyota announced a new in-car electronics system called Entune that seems to be very similar to Ford's "Sync" system. While we have yet to actually use Entune, the system might best be described as a smart phone or tablet PC that's built into your Toyota. It features a large touch screen, a number of built-in applications, and the ability to connect to the Internet by tethering itself to the driver's smart phone.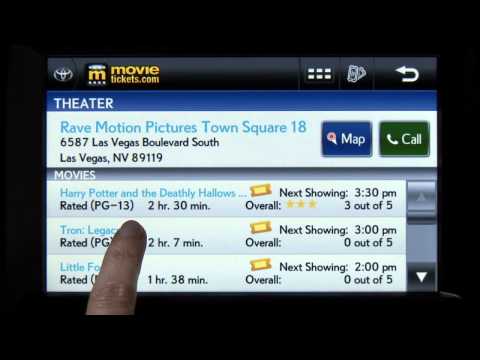 How it Works: Entune connects your car to the Internet using your smart phone. You install a special Entune app on your iPhone, Blackberry, or Android-powered phone, and then you use Bluetooth to connect your phone to your car. As long as your phone is on and the Entune app on your phone is active, Entune will be fully functional.
Needless to say, if you don't have a smart phone with a data plan, Entune might not be useful to you.
Entune Features Include:
Voice recognition for Bing, powered by Nuance (more on Nuance below)
Built-in GPS that can be used in combination with Bing search to find local businesses, download maps and directions, etc.
Navigation powered by Bing, including free traffic updates
The ability to stream music through your car stereo using popular Internet radio services
The ability to select and play music off your MP3 player (iPod, Zune, etc.)
The ability to check stocks, weather, scores, fuel prices, etc., directly from your car
The ability to freely upgrade the Entune system and add new features over time
Each of the Entune's main features are contained in separate applications, very similar to the apps people download onto their iPhones or Android devices.
Toyota has been very smart to use off-the-shelf technologies to power Entune. The basic software behind Entune comes from QNX Software, which is a subsidiary of RIM (the same people that make the Blackberry). QNX software currently powers more than 20 million vehicle systems around the world, which probably means that Entune will be stable and relatively bug free.
The voice recognition software used by Entune comes from Nuance, one of the premier voice recognition companies worldwide. Nuance is the company that sells Dragon desktop, a popular and powerful voice recognition program that can be used to dictate speech to text.
Finally, Toyota has integrated Clear Channel's iHeartRadio system and Pandora, two popular and well-funded Internet radio companies.
Toyota seems to have chosen their partners for Entune very wisely.
Toyota Entune vs. Ford Sync vs. OnStar
Here's a quick breakdown of features offered by Entune and how they compare to Ford's Sync system and GM's Onstar:
OnStar
Sync*
Entune
Automated Crash
Response/911 Assist
Yes
Yes
Yes
Stolen Vehicle Assist
Yes
No
?
Remote Unlock
Yes
Yes (3rd party app)
?
Navigation & Traffic
Alerts
Yes
Yes
Yes
Sports, Weather, News
No
Limited
Yes
Built-in Local Search
No
Sort Of
Yes
Hands-Free Calling
Yes
Yes
Yes
Vehicle Diagnostics
Yes
Yes
?
Free Internet Radio

No
No
Yes
Built-in hard drive
for music storage
No
Yes
?
Make Vehicle A
Wireless Hotspot
No
Yes
?
Download Future
Updates?
No
Yes – Dealership
provides upgrade too
Yes
Monthly Fee
$19-$29
No**
No**
Note: This table will be updated as more feature information becomes available
*Sync is understood to include Ford's new MyFordTouch features.
**Cell phone with Bluetooth and Internet data plan required.
Questions We Have About Entune
How much bandwidth will Entune use? Will my phone's data plan be sufficient?
Will Bluetooth sync really work? There are numerous Toyota owners who have reported trouble with getting their phone to talk to their Bluetooth compatible stereo.
Will Internet radio replace XM/Sirius? (Motley Fool tries to answer that question here)
What apps are next? Maps, local search, and voice recognition apps are essential, but gimmicks like movie tickets and dinner reservations aren't going to be enough to make this system really fly.
The data plan question is interesting because streaming one hour of Internet radio each day will consume about 860 megabytes of data each month according to the AT&T data plan calculator. That means that many iPhone customers will have to upgrade their data plan if they want to utilize this feature. If Entune eats up a lot of bandwidth completing local searches, navigation, etc., some iPhone users might not be happy campers.
Bottom line: The fact that Entune can be upgraded over time guarantees that this will be a worthwhile feature for Toyota owners who already use a smart phone. Even if the current iteration of Entune sucks (and it doesn't seem like it does), an upgrade will always be available. Kudos to Toyota for taking Ford's idea and making it better.
Filed Under: Auto News
Comments (18)