Silicone Hoses For Your Ride? Pros and Cons
Jamie Alberico | Oct 30, 2012 | Comments 4
Silicone hoses are a great quick way to add color to your engine bay, but their appeal goes beyond aesthetics. Silicone hoses reduce the risk of catastrophic hose and cooling system failure, as they have a higher burst strength than normal rubbing hoses.
If you're considering making the switch from OEM to silicone radiator hoses, here are the pros and cons of making the switch.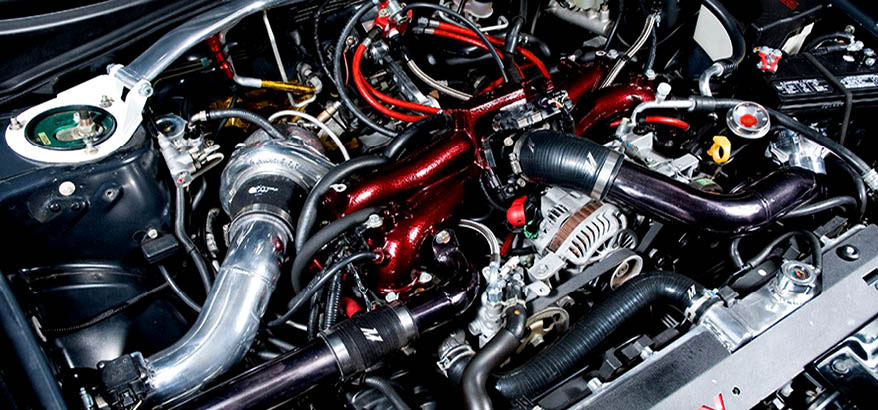 OEM Radiator Hoses
OEM radiator hoses are constructed of rubber and a protective reinforced knit to prevent bursts. Rubber hoses weaken over time and can succumb to cracking, bulging, and splitting, leaving you with an overheated engine if you're not diligent on your maintenance.
Additionally, while OEM hoses form a great air-tight seal, removing them can be a bit of a trick. Prolonged exposure to high engine bay temperatures – as well as the very nature of the OEM hose material – can work against you, fusing the rubber to the radiator and making replacement even harder.
Pros of Silicone Radiator Hoses
Easier to remove simple because they're less likely to stick. Silicone can endure a much wider temperature range (65°-330°/350°F depending on brand) without degradation.
Aesthetics: Rubber hoses come in standard dull black. Where's the fun in that? If you're a fan of popping the hood and showing off your hard work, silicone hoses can add style to the engine bay. They have a shiny finish and can come black, blue, red, green, yellow, and orange.
Silicone radiator hoses have a higher burst strength rating, which means they're ideal for racing or other heavy-duty uses.
Silicone hoses simply last longer. They transfer heat better and are less likely to swell, crack or dry out.
Cons of Silicone Radiator Hoses
Silicone's unlikelihood to bond to the radiator is a double-edged sword. Many drivers whom have switched report coolant leaks and decreased efficiency. This can be avoided (or at least mitigated) by buying high-quality silicone hoses that feature an interior made of heat-resistant embedded fibers.
Silicone is more expensive, so you must beware of the bargain bin silicone hose options. Cheap silicone hoses leak as they're typically not reinforced. They're also more likely to scuff and lose some of their luster.
Silicone requires special clamps. The thicker material is softer than rubber and needs rounded inner-ring clamps to avoid cutting the hose. Many reputable vendors include the clamps with the hoses as a kit, but cheap silicone hoses don't come with the right clamps.
Silicone's aesthetic beauty doesn't come without upkeep. Silicone has a sticky texture which attracts dust and dirt easily. To keep that shiny finish, you'll need to keep up on your cleaning.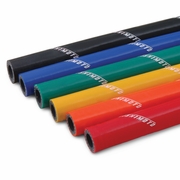 Silicone hoses aren't limited to the radiator, by the way. While they're not compatible with oil or fuel, they can also be used on air intakes.
Bottom Line: Silicone hoses are more vanity than function for the average driver. But if you're into extreme racing or are looking for hoses with greater longevity, it might be the right call for you.
What do you think? Cool feature, or needless accessory?
Related Posts:
Search terms people used to find this page:
https://tundraheadquarters com/silicone-hoses-pros-and-con/
Filed Under: Toyota Tundra Accessories
Comments (4)