Polaris ATVs Feature Non-Pneumatic Tires in 2014 – Trucks Next?
Tim Esterdahl | Mar 19, 2013 | Comments 28
A new breed of airless, virtually indestructible tires are coming to the ATV world, will cars and trucks be next? Probably sooner than we think.
For a few years now, we have been talking about new tire technologies. These new ideas have the goal to make
flat tires
,
heavy gas guzzling tires
and our normal everyday tires a thing of the past. Unfortunately, all of these new ideas, haven't correlated with any new products. That is until now, the Michelin Non-Pneumatic Tires that will be used by Polaris starting in 2014.
These revolutionary tires were actually created by Resilient Technologies which was bought by Polaris last year. The simpleness of the design should remind you of a bicycle tire. What's really cool about them is that you won't need to carry any spare tire or jack to change a wheel. This translates into significant weight savings (can you say MPG full-size truck fans?).
Here is a video showing the tire on a Ram truck doing some off-roading that was sent to us below.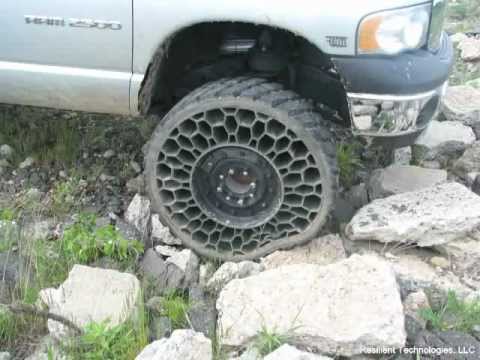 As with all new things it seems pricing has not yet been announced. What's your guess?
Related Posts:
Filed Under: Tundra Wheels and Tires
Comments (28)