LED Lights Are In – Everything Else Is "Out"
Jason Lancaster | Mar 06, 2008 | Comments 2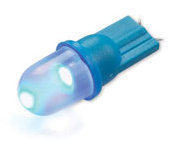 LEDs (light emitting diodes) are the next "big" thing in automotive lighting. LEDs have been around for a long time, but they're finally bright enough and, more importantly, cheap enough to be used in most automotive applications. LEDs are superior to traditional automotive lighting in a lot of ways. They use less power – a typical halogen headlight is rated at 55W, yet the most powerful LED uses less than 20W, with most LED's using less than 5W. LEDs are nearly shock-proof (great for off-road use), unlike flimsy bulb elements. LEDs also have a very long lifetime – a good one will last at least 10,000 hours before failing. If you figure you drive an average of 1.5 hours a day, it will be about 18 years before your LEDs burn out. Finally, LEDs can be made in a variety of colors and sizes for nearly every application.
In most ways, LEDs are better than every other normal automotive lighting system. Even HID headlights, found on a lot of luxury cars, are being replaced/supplanted by brighter, smaller, and more rugged LED lights on new vehicles (like Audi's R8, featured in a 2008 "godfather-esque" SuperBowl commercial (link to video) and seen below). HID lights usually need time between on-off cycles, but LEDs turn on instantly. HID systems are costly, but the price of LED lighting systems is falling rapidly. LED's, because of their small size, also allow for unique, non-traditional arrangements that make HID lighting systems seem bulky.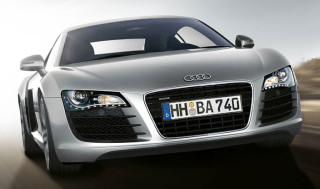 But LED lighting systems aren't perfect. First of all, it usually takes multiple LEDs to create the same light pattern and brightness of one halogen or HID bulb. When it comes to the kind of powerful LEDs needed to make really bright headlights, there's also a bit of a heat problem. Specifically, these high power LEDs have a tendency to burn themselves out during a "thermal runaway" (a fancy way of saying they get hotter and hotter until, well, you get the idea). Interestingly enough, the heat problem usually isn't because of the heat that the LED's generate themselves – most designs are capable of dissipating all their own heat – it's actually the heat from the engine compartment that causes most of the problems. If you think about it, the front end of a normal vehicle is pretty warm – the radiator is constantly delivering hot coolant to an area just a few inches behind the grill. Combine that with the proximity to the engine block and the LED's own heat output, and it's easy to imagine just how warm these LEDs headlights are getting.
Thus, LED headlights are still "bleeding edge" technology, and unless they're provided by your new car manufacturer, we don't recommend them. However, LED tail lights, far away from any external heat sources, are becoming commonplace. They're available on many brands of new vehicles, and after market companies are starting to pump out LED tail light kits for cars, trucks, and SUVs. LED tail lights are brighter than incandescent light sets, and they have a unique appearance when lit that makes them stand out (see below). They also turn on noticeably quicker than incandescent bulbs. Auto manufacturers are pitching LED tail lights as a safety feature – because they're brighter and turn on faster they're more likely to be noticed, even during the middle of the day, reducing the chances of a rear-end collision.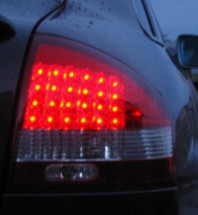 LED brake lights are also becoming popular – one of our readers managed to get his hands on some prototype pictures of IPCW's Toyota Tundra LED 3rd Brake Lights (thanks Michael). IPCW also confirmed an LED tail light kit for the 07+ Tundra is on the way.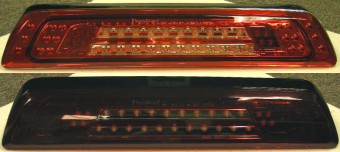 Finally, if you want to check out LED's for yourself (but you don't feel like waiting), a company called Putco offers universal fit LED dome lights, and they've even made a nice little Tundra dome light install video (link to video). For about $70, you can light the inside of your Tundra up like it's the 4th of July. Visit Putco's own sales site for the 07+ Tundra specific dome light kit, or see their list of online retailers to shop for the best price (use Putco part no: 980019).
LED lights, be they tail lights, headlights, turn signals, or interior lights are on the way "in". HID, halogen, and normal incandescent bulbs are on the way "out" (pardon the pun). Some time in the not-too-distant future, you'll tell your kids (or grandkids) about the days when light bulbs had to be changed…
Filed Under: Toyota Tundra Accessories
Comments (2)