K and N Air Filter Review: Save $1100 On Gas!
Jason Lancaster | Jul 16, 2008 | Comments 43
We've spent a lot of time reviewing cold air intakes here on TundraHeadquarters.com, and for good reason. Cold air intakes offer increased performance, improved gas mileage, go-fast looks, and a great sound. These kits work because they increase air flow into the engine while also making an effort to ensure the intake air is as cool as possible. Unfortunately, while they do work, cold air intake kits cost $300-$400.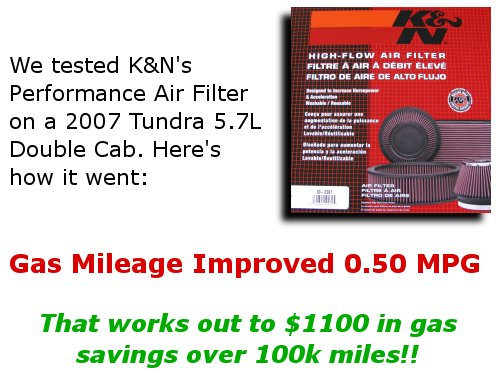 For years, K&N has been offering a less expensive alternative to cold air intake kits, specifically, a high-performance air filter. K&N says that their high-flow air filters significantly increase air flow and therefore offer many of the same benefits as more expensive full-fledged intake kits. We decided to check that claim, and here's what we came up with:
1. Performance. While there was no significant gain in measured horsepower (all our test runs were within normal hp variance), there was a noticeable improvement in throttle response and engine performance at cold start.
2. Fuel Economy. Get your wallet ready – if you don't already have a K&N air filter (or an air intake kit), buy one now. We noticed more than a 0.50 average improvement in mpg on our test vehicle over the course of 2 weeks and about 800 miles. Before we added the K&N, our test truck averaged 14.3 mpg. After the filter was added, the test vehicle averaged 14.9 mpg. That means that over the course of our test we saved 2.3 gallons of gas. Put another way – spending $50 on a K&N air filter that improves your mpg 0.60 will pay for itself in about 5,000 miles – if not sooner. If you extrapolate out to 100k miles, our test results show that the K&N performance air filter will save you about 280 gallons of gas. That's about $1,100 in gas savings!
3. K&N Million Mile Warranty. If the gas mileage improvement isn't enough incentive for you to buy a K&N air filter, here's another. K&N's performance air filter comes with a 1,000,000 mile warranty. As long as you clean it (every 25k-50k miles), it will last forever. The factory air filter (made from paper that is more restrictive than the cotton gauze K&N design) should be replaced every 15k-30k miles, at a cost of $20 per filter. The cleaning process does require you to buy a $20 re-charger kit, but even if you pay $60 for the K&N filter and $20 for the cleaning kit, you still break even after replacing four factory air filters (which can take 60k-120k miles, depending on how dirty your filter gets). Not to mention the gas savings…
We installed the K&N performance air filter in a 2007 Toyota Tundra double cab with the 5.7L V8 (above). Thanks to Larry for providing his truck and allowing us to test K&N's air filter.
4. Factory Warranty Issues. There are a few rumors out their that adding a K&N air filter (or similar) to your vehicle will ruin your mass air flow (MAF) sensor. Some of these rumors are true – if you clean and then grossly over-oil your K&N air filter, the excess oil will enter your air intake and could foul your sensor. As long as you're careful, you won't over-oil your filter when you clean it. K&N has a decent explanation of why their air filters can't hurt your truck, but the best explanation follows. TRD also sells a cotton-gauze performance air filter just like the K&N filter – they also offer a cleaning kit, just like K&N. Since TRD sells a nearly identical part for a new Toyota, you've got nothing to worry about.
5. Alternatives. There are a few companies that sell performance air filters similar to K&N – aFe, TRD, and FRAM might be the best known. Since we haven't tested any other performance cotton-gauze air filters, we can't say for sure that these other brands offer the same benefits. But it's a pretty safe bet that they do. We would definitely recommend the K&N air filter over the TRD unit simply because of the cost. As for the rest, since there's no substantial price difference, there's no reason not to choose the K&N.
Our test of the K&N air filter showed an average 0.6 mpg improvement. Extrapolated to 100k miles of driving, that works out to about $1100 in gas savings (assuming gas costs $4 per gallon).
Bottom line: If you like fuel economy and better throttle response, buy a K&N performance air filter. They cost about $50 now, and between the million mile warranty and the gas savings (we calculated $1,100 dollars worth over the course of 100k miles), it's a no-brainer.
Check prices on AutoAnything.com (where shipping is always free), Auto Parts Warehouse (sometimes offering a 10% discount on K&N parts), and 4 Wheel Parts. Between the three, you should be able to find the best price…just make sure to include the shipping cost into the final figure. Some online parts sellers discount the part but then add on $10-$20 in shipping and handling charges, so watch out.
Filed Under: Toyota Tundra Accessories
Comments (43)