After Market Toyota Tundra Exhaust Systems
Jason Lancaster | Jul 14, 2008 | Comments 205
No doubt you've been out driving your Tundra and had your head turned by the rumbling exhaust of another full size pickup driving by. There's just something about the deep, throaty sound of a V8 engine amplified by a set of wide pipes and performance mufflers. Fortunately, there are dozens of options for getting that same aggressive sound on your Tundra – not to mention some nice horsepower gains. Let's take a look at some of the options out there.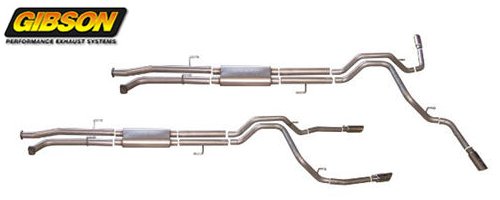 Gibson Exhaust offers aluminized and stainless steel cat-back exhaust systems with single pipes – either rear or side exit – as well as dual pipes with rear or side exits. Pricing starts at about $450 including shipping.
Gibson Performance Exhaust is a bit of an oddball company in the sense that the founders began their exhaust work while looking for a way to improve the performance of their motorhome. Not many people would think to parlay a venture involving Winnebagos into a full-fledged sport exhaust empire, but the Gibson family did and today they are one of the larger exhaust companies operating in the United States. For the Tundra, a cat-back system is available that Gibson claims will increase horsepower between 10 and 15%, while providing a torque boost of 15-20 lb-ft. The term 'cat-back' refers to an exhaust system which bolts onto the stock system behind the catalytic converters, maintaining the factory emissions controls, but replacing the stock mufflers and resonators. The extra power from the stainless steel Gibson exhaust comes from the less restrictive mufflers and mandrel-bent piping, which maintains the same pipe diameter without any crimping in the curves.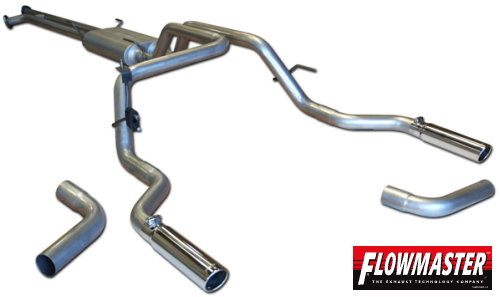 Flowmaster offers an aluminized steel American Thunder dual exhaust system that can either be configured to exit at the rear or on the side. Pricing starts at about $650 including shipping.
Flowmaster is a name long associated with performance vehicles. The company got its start in 1983 quieting down the engines of Sprint Car racers in order to meet local noise ordinances, and this racing experience has been carried over into their street applications. Flowmaster makes a complete cat-back system for the Tundra that is supposed to improve fuel economy and increase acceleration through greater exhaust gas flow. Interestingly, the company does not make any specific claims regarding power increases.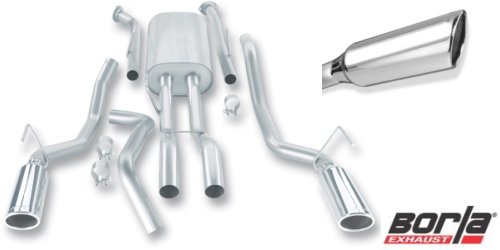 Borla offers a complete stainless steel cat-back exhaust system. It's top quality, but it's also top dollar – pricing starts at $1,000.
Borla is a well known name in the world of exhaust, and they have a long line of products that finds itself used on some of the most potent exotics and sports cars in the world. The company's original focus was the design and installation of custom exhaust systems on rare European vehicles. Today, they have a wider range of offerings that even covers the Tundra. In fact, Borla has two cat-back systems designed for the Tundra, one with dual side-exit exhaust and one with dual rear-exit. Like Flowmaster, they don't make any specific power claims, but the price is substantially higher than either of the other two companies we have so far discussed.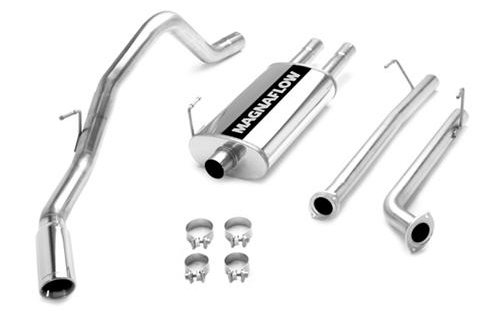 Magnaflow cat-back exhausts are available on the Tundra in either a dual rear exit or a single side exit configuration. Starting at less than $500 (including shipping), Magnaflow exhausts are very affordable and, along with Gibson exhausts, they're an excellent option.
Magnaflow is well known for their stock muffler replacements and performance muffler options, but Magnaflow also makes a complete cat-back exhaust for the Tundra. In fact, they have 3 – one with a single side exit, similar to stock, one with a dual side exit but on the same side, which is unique amongst the companies we have examined, and one which is a dual exit at the rear. While Magnaflow claims that horsepower and torque are increased by their system, they decline to list an exact figure. One of the most interesting aspects of the Magnaflow website is the page where you can actually hear a sound clip of what the exhaust will sound like on your truck. While the Tundra sound clips only include the 4.7L, they promise more sound clips in the future.
Learn more about why you should consider buying an after market exhaust, the differences between single and dual exhausts, and listen to some Tundra exhaust system sound clips.
Filed Under: Tundra Exhaust
Comments (205)