Dropping Diesel Dumb Decision
Jason Lancaster | Oct 15, 2008 | Comments 8
Update: Read the complete story of the diesel Tundra
Toyota's recent announcement that they're "shelving" the diesel Tundra is a dumb decision. Here's why:
Ford, GM, and Chrylser will all offer diesel half ton trucks in the next 2 years (or less). Toyota will be the only major manufacturer without a light-duty diesel truck.
Diesel engines offer the best potential for high fuel economy. Early estimates are that a diesel equipped Sierra or Silverado could get around 26mpg without a drop in performance* when compared to the current 5.3L gas engine.
Light duty diesels are the best substitute for Ford, Dodge, and GM HD truck owners looking to step-down without sacrificing capabilities.
Toyota already has an excellent light-duty diesel – the Aussie 4.5L twin turbo – ready to go. Economies of scale would likely make this engine cost-competitive with domestic offerings.
With the positives associated with integrating the 4.5L diesel into the Tundra being so plain, one has to wonder why Toyota would shelve such a promising powertrain? Lots of explanations are floating around, but here's what we believe.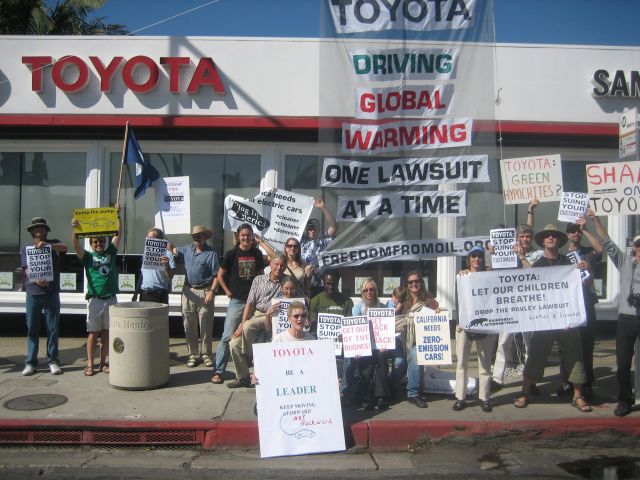 Have Toyota's fears of a cultural conflict led them to cancel the diesel Tundra?
1. Toyota is concerned the diesel take rate will be low. In the last 6 months, the diesel "take rate" (the number of customers choosing the diesel engine) in the HD segment has dropped nearly 30%. While consumers are stating that high diesel fuel costs are to blame, this is a misnomer. Diesel's higher costs are offset by better fuel economy. The issue is total cost – new diesel trucks are $5k-$6k dollars more expensive than comparable gas engine trucks, and many casual truck consumers are waiting to see what happens. The current product mix is being dominated by commercial purchasers who are more interested in lower upfront costs (and therefore gas engines) and less concerned about long-term costs. When the consumers re-enter the market, diesel take rates will increase.
2. Toyota isn't sure how to price the diesel option. Because Toyota doesn't know how many consumers will buy the diesel engine, they can't figure out how much to charge for it. If Toyota counts on a large volume of diesel Tundra sales and prices the option accordingly (assuming volume discounts), they stand to lose a fortune if the market under-performs. Conversely, if they price the option too high, the trucks will sit and the development costs will be hard to recover.
3. Politics. That's right – you read it here first. Toyota's political concerns certainly don't help the case for a diesel Tundra. Let's just say that the diesel Tundra sells well. With such a small truck market right now, Tundra sales will most certainly come at the expense of Dodge, GM, or Ford sales. All three manufacturers NEED truck sales to stay in business, and Toyota leadership is likely concerned that strong Tundra sales will cause the demise of one of the "not-so-big" three. Since there's a good chance a "Buy American" backlash would follow the collapse of GM, Chrysler, or Ford, Toyota would rather surrender the truck segment than risk a culture war.
4. Toyota is losing their way. Finally, and most disappointingly, Toyota is beginning to lose their way. Once known for making smart, long-term decisions, today's Toyota contradicts themselves. Promising diesel, hybrid, and heavy-duty versions of the Tundra in 2006 and 2007, then backing off those commitments and throwing away the preliminary engineering. Launching a zero percent sale while at the same time stating that Toyota will not enter a truck war with the domestics. Handing plug-in electric car leadership to GM. Increasing numbers of quality problems and recalls. These are all examples of a big company losing it's way – will Toyota emulate the collapse of once powerful General Motors?
Only time will tell. One fact is certain – dropping the diesel Tundra was a dumb decision.
*Source: August 25th, 2008 Automotive News "GM's Powertrain Plan"
Filed Under: Diesel Tundra
Comments (8)