Dodge's New Fuel Price Protection Program Is A Scam
Jason Lancaster | May 06, 2008 | Comments 32
In an effort to boost sales, Dodge has announced a special "Fuel Price Protection" program for their trucks.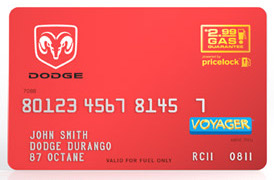 Dodge's latest marketing ploy is bad news for consumers.
Simply put, you get a special credit card when you buy a new Dodge (not every new Dodge, but most). You can use this credit card to buy fuel for $2.99 a gallon at any service station for three years following your date of purchase, regardless of the actual market price. Sounds great right? Everyone else is paying $4-$5 a gallon for gas (or diesel), but you're only paying $2.99 (provided you buy normal 87 octane gas – they're not paying for premium). Except for the fact that it's really not that great of a deal.
First of all, the program only covers enough fuel needed to drive 12,000 miles per year. Too bad the average annual mileage in the U.S. is closer to 15k miles than 12k. So, for average drivers, the last couple of the months of the year their Dodge gas card is going to stop working.
Secondly, since Dodge will have no way of knowing how far you've actually driven in order to determine when you've hit 12k miles, they're going to use the EPA average fuel economy estimates for each of their products to calculate how many gallons work out to 12,000 miles. Why is that important? Because Dodge makes you give up most of the cash rebate on the new truck to get the fuel card.
NOTE: Dodge has announced the full program now, and they're including a $3,000 rebate with the gas card option. So, instead of being a complete rip-off (with no cash), it's at best a push.
Unfortunately, the "fuel price protection" credit card is actually a worse deal for consumers (at least anyone buying a new Ram 1500). Here's why:
Let's say, for argument's sake, that regular 87 octane gas costs $5 a gallon for the next three years. Some people estimate that gas will actually stabilize at $4 a gallon, but let's be on Dodge's side and say it hits $5 and stays there. That means you'll "save" $2 on every gallon Dodge buys you for your new 08′ Hemi Ram 1500. Of course, Dodge is only going to buy you enough gas to go 12k miles a year, which is 857 gallons a year using the EPA estimate.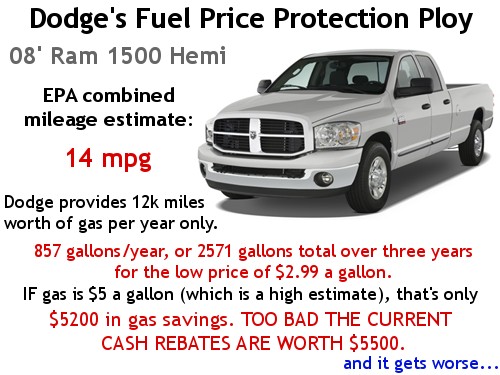 Dodge has announced the full program now and the math on this graphic is incorrect. Dodge is providing a $3,000 rebate as well as the gas card. It's still not what we would call a good deal, but it's not a ripoff either.
If you do the math, you'll find that IF fuel is $5 a gallon, you'll save about $5200 over the next three years using Dodge's fuel price protection program. A quick visit to Dodge's website showed the current cash incentive you have to forgo is $2500 on new 1500 Rams (at least in the Denver region). If you use the more realistic gas price estimate of $4.00 – $4.50, you only save $2,600 to $4,000 over the next three years.
SO, if gas stays at or near $4 a gallon, you only save about $2,600 over three years.
Too bad that $2,500 today is worth more than $2,600 in gas savings spread out over three years. It's called time-value of money. If you used the $2,500 in cash rebates as your down payment on a new Ram, you save about $200 in interest over the next three years (assuming you get a 3 year loan at 6%). If you got a 6 year loan at 7.99% (which a lot of people do now), using the cash rebate saves you almost $800 in interest on a loan. So, obviously, unless gas climbs past $4 a gallon, this isn't much on an offer.
Unfortunately, a lot of people aren't going to do this math. They're going to hear "$2.99 a gallon gas" and run to their nearest Dodge dealer.
Related Posts:
Filed Under: Auto News
Comments (32)