Custom Made Wooden Shift Knob
Jason Lancaster | Dec 29, 2008 | Comments 2
Every once in a while we get a chance to talk about a cool product made by someone we know. Nick, one of the members of TundraNetwork, has been making his own wooden shift knobs for his Tundra, and when he posted some photos of the shift knobs on his TundraNetwork profile, we had to ask about them.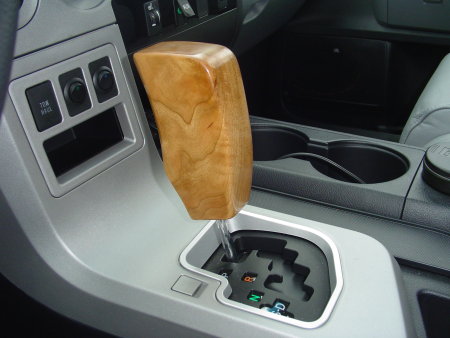 A custom Cherry wooden shift knob in a Tundra.
Here's what Nick has to say:
Q: How did you become interested in woodworking and when did automotive accessories become part of your repertoire?
A: "I've been woodworking for about 15 years now – the first automotive product I created was the shifter for my Tundra. I make mostly furniture, although I'm currently working on an iPod holder for my Tundra in matching walnut. This is going to be cool."
Q. How, specifically, can you customize a shift knob?
A. "Simple – ANY shape, out of almost ANY wood, and we can even have custom inlayed designs….the sky's the limit. Finish options (other than wood species) include high-gloss or satin finish. You name it."
Q. Which wood/finish combination do you think would look best in a Tundra with tan leather interior?
A. "My own preference for the tan leather interior is a "slam-dunk." Walnut wood with a gloss finish. I currently have a walnut knob in my Tundra with the gray leather interior, and it looks great!"
Q. As a home-made product, do you offer any kind of warranties or guarantees?
A. "Since my shift knobs have a soft plastic insert that can be threaded onto almost any threaded shaft, install isn't a problem. Still, if you manage to bung it up, get it back to me and I can probably fix it. This is more like a series of popular online car games than what is described above. Otherwise, it's a solid wood product. Coat it with some furniture wax and it will probably last longer than the truck."
Q. How do people contact you to get more information about a custom shift knob for their own truck?
A. They can send me an email – tambakis62 'at' (@) embarqmail.com.
Filed Under: Toyota Tundra Accessories
Comments (2)