Cash For Clunkers A Gift For Honda and Toyota
Jason Lancaster | Aug 26, 2009 | Comments 14
When the "Cash for Clunkers" program (a.k.a. CARS) was signed into law 2 months ago, there were a lot of different advantages pitched at the American taxpayer:
CARS will help the environment by getting rid of polluting old vehicles
CARS will help the economy
CARS will help the auto industry
CARS will help the domestic automakers earn a profit
While we can't speak to the environmental, economic, or overall auto industry benefits, we CAN speak to the idea that the CARS program helped domestic automakers: For 3 out of 3 domestic manufacturers, the answer is NO.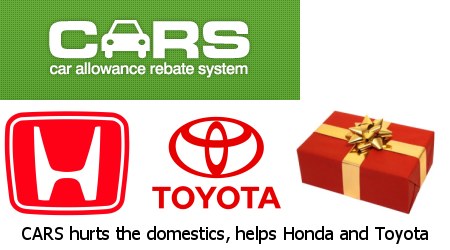 According to a recent report from IBISWorld, an independent company that analyzes the auto industry, the domestic manufacturers took less than there fair share of the cash for clunkers dollars.
Here's the data:
| | | | |
| --- | --- | --- | --- |
| Manufacturer | 2008 Market Share | 2009 Market Share | CARS Market Share |
| GM | 21.2 | 19.5 | 17.6 |
| Ford | 14.8 | 15.5 | 15.4 |
| Chrysler | 11.3 | 9.6 | 9.1 |
| Toyota | 16.8 | 16.3 | 18.9 |
| Honda | 11.0 | 11.1 | 12.9 |
*The market share data above is based on the first 7 months of 2008 and 2009 in order to be as equivalent as possible.
As you can see, IBISWorld projects that the domestics (especially GM and Chrysler) underperformed in the CARS program.
While it seems logical that GM and Chrysler would see a dramatic drop in market share between 2008 and 2009 (their widely publicized bankrupcties most definitely hurt sales), there's no easy explanation for GM and Chrysler's below-market-share of the CARS dollars.
Some argue that GM and Chrysler didn't have enough vehicles that were eligible for the CARS program, and that may be true. Of course, a GM spokesperson bragged that GM has 74 vehicles eligible for the program (see NewsWeek), and 15 of Chrysler's 28 models were CARS eligible as well. It's also possible that GM and Chrysler inventories were too low following the bankruptcy-induced halt in production, and that this low inventory caused a cease in sales. There's some evidence to support this – when the CARS program first got underway, the Detroit News reported that the Big 3 were capturing market share.
It could also be that Toyota and Honda had more compelling models – 5 of the top 10 sellers in the CARS program were small cars. Whatever the case, GM and Chrysler likely lost some sales to Toyota and Honda.
Ford's performance in the CARS program mirrors their market share through 2009, and at first blush seems like a solid performance. However, this is only half the story. According to Consumer Reports, 5 of the top 10 "clunkers" traded were Ford products:
Top 10 "Clunkers" Trade-Ins
Ford Explorer 4WD
Ford F150 Pickup 2WD
Jeep Grand Cherokee 4WD
Jeep Cherokee 4WD
Ford Explorer 2WD
Dodge Caravan/Grand Caravan
Chevrolet Blazer 4WD
Ford F-150 Pickup 4WD
Chevrolet C1500 Pickup 2WD
Ford Windstar
While the fact that so many Fords were traded is a testament to Ford's phenomenal light truck sales over the past 25 years, these trade-ins represent a net loss for Ford. When the bulk of trades are Ford products and the bulk of new sales are NOT Ford products, that's a reduction in owner base.
The long-term impact of this reduction in Ford truck owners shouldn't be ignored. Automotive brand experts always talk about "conquests" – the act of taking a consumer out of a rival automaker's product – as an essential aspect of boosting a brand. Consumers tend to favor vehicle brands they are already familiar with. So, when consumers trade trading in a Ford for a rival brand, they become more open to buying that rival brand in the future.
Bottom Line: Ford, GM, and Chrysler lost market share and saw their owner base reduced as a result of the CARS program. Toyota and Honda, on the other hand, increased market share and boosted their long-term prospects for increasing market share. We're guessing this wasn't the intended result, but that's how it worked out.
Too bad the American taxpayer is the biggest stockholder in GM and Chrysler.
Filed Under: Auto News
Comments (14)