Is your Camry's Transmission Whining? It Could Be A Cable – TSB
Jason Lancaster | Dec 04, 2014 | Comments 0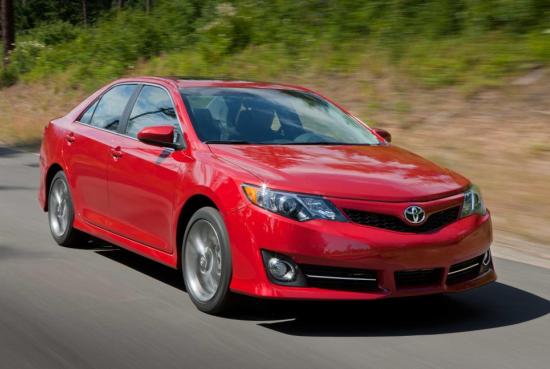 If you own a 2012-2014 Toyota Camry and hear a high-pitched whine noise that is most noticeable while driving at a steady speed between 40-70 mph, it's because of the control cable of your Camry's U760 transaxle.
A Toyota Service Bulletin, T-SB-0069-14, has been released recently regarding this occurrence with 2012-2014 Camrys. A modified transmission control cable has been produced to reduce the possibility of this sound occurring while driving.
If you choose to do the repair yourself, follow this step-by-step procedure. If not, take your Camry to a Toyota dealer and inform them on the issue you are experiencing.
Parts Needed
The part necessary for this repair is covered under warranty, and can be easily obtained via your local certified Toyota dealer. Certified Toyota dealers will be aware of T-SB-0069-14 and will have parts in stock to provide to 2012-2014 Camry owners in order to repair this issue.

Repair Procedure
Step 1: Drive your Camry at operating temperature to verify a high-pitched drivetrain whine occurs during speeds between 40 and 70mph.

If the noise occurs, continue to step 2. If the noise does not occur, this procedure does not apply to you. Consult with a dealer for further diagnosis.

Step 2: Inspect your Camry's transaxle fluid.

Is the transaxle fluid at the correct level? From underneath of your vehicle, examine the check/fill plug on the side of your Camry's transmission. The fluid level should be at the bottom of the plug. NOTE: Do not confuse your check/fill plug with your transmission's drain plug. The drain plug is located on the bottom of your transmission.

If yes, continue to step 4.
If no, adjust to the correct fluid level using Toyota specific transmission fluid and test drive your Camry again to see if the condition has improved. Continue to step 3

Step 3: Does the adjusted fluid level improve the condition?

If yes, continue driving your Camry as is.
If no, continue to step 4

Step 4: Replace the transmission control cable assembly. NOTE: the mass damper (labeled "2" in image below) should be located on the rear side of the transmission control cable bracket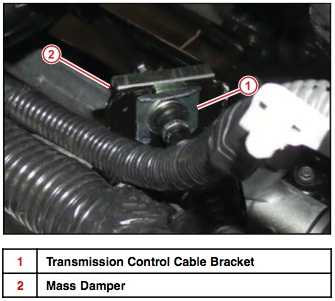 Step 5: Test-drive your Camry to verify that the high-pitched noise is no longer occurring at steady speeds between 40-70 mph.
If a noise is still occurring once you have replaced the transmission control cable, consult with a Toyota dealer immediately to diagnose occurring issues and to prevent possible damage. It is not recommended to rely on aftermarket parts or non-certified Toyota repair shops due to the fact that they may not have the correct parts or knowledge of the issue in order to achieve this repair correctly.
Filed Under: Maintenance Tips
Comments (0)