Amazing Bullet-Proof Tire Coming To A Truck Near You
Benjamin | Mar 23, 2011 | Comments 14
Armored vehicles do an excellent job of protecting soldiers and police personnel from bullets, shrapnel and other dangers encountered in the line of duty.  Traditionally, however, these types of vehicles have always presented the same weak leak that can in some cases mean the difference between life and death:  completely exposed rubber tires.
Steel might be able to resist the explosive force of an improvised explosive device, but the rubber that is used in making the tires that support the massive weight of these vehicles has lagged behind in terms of strength and resistance to puncture.  It's not just rocket-propelled grenades or machine gun fire that shreds tires, either – debris in the road, a hazard on both war-torn and peaceful roadways alike, can also quickly stop a convoy due to tire damage.
When tires blow in a hostile situation, the lack of mobility and the exposure of soldiers forced to replace those tires in order to get moving again puts lives at risk.  Run-flat tire technology cribbed from civilian designs is only so effective in a combat zone, as both speed limitations imposed on damaged wheels as well as the distances between safe areas can both conspire against the safety of military personnel.  These unique conditions, encountered every day by U.S. forces in Iraq and Afghanistan, prompted Resilient Technologies to create the Non-Pneumatic Tire.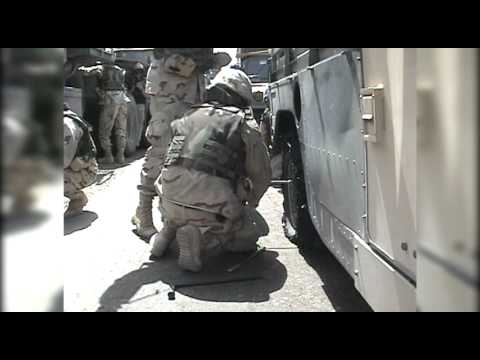 The Non-Pneumatic Tire (NPT) is the result of 21 months of testing of a tire solution that doesn't require on a balloon of air to provide stability, traction or shock absorption.  By using a plastic honeycomb design wrapped in a rubber tread, the NPT is unaffected by the kinds of punctures or damage that would render a traditional air-filled tire useless.  In addition, the radical new design weighs the same as the current wheel and tire set installed on military Humvees and features a 100,000 mile lifespan before needing to be replaced.
Resilient plans a fully-functional prototype tire to be made available for use by the American military sometime this year.  That being said, since this is a military project, the tires could very well already be out there in a limited capacity for testing purposes.  The potential for these tires to eventually trickle their way down to civilian use is strong, as companies such as Michelin have been involved in developed a non-pneumatic tire for many years.  If Resilient Technologies and Michelin have their way, these bulletproof tires could soon make blowouts, and all the dangers associated with them, a thing of the past.
The question is, will these tires make it to your truck…and will they be better than a regular old pneumatic tire?
Filed Under: Tundra Wheels and Tires • TundraHeadquarters.com
Comments (14)