Auto News From Around The Web August 25 2008
Jason Lancaster | Aug 25, 2008 | Comments 1
First up, Edmunds.com posted a 2009 Dodge Ram first drive report on their Inside Line blog last week. While Edmunds was quick to point out that the vehicle they drove was a prototype, their review of the new Ram's rear coil suspension was very complimentary. Here's a snippet:
A set of gargantuan coil springs now supports the back half of the new Ram, improving ride and stability while miraculously preserving the payload and towing capacity of the 2008 model. If the competition doesn't already have prototypes and test mules running around with this setup at their respective proving grounds, they'd best get on the ball.
Edmunds also went on to say that the new HEMI will have variable-valve timing (Tundra already has VVT-i), variable length intake runners (Tundra already has a similar acoustically controlled induction system), and a higher compression ratio than the old engine. Combined with Dodge's cylinder de-activation system, the claim is that the new Ram will have slightly better fuel economy (13/19) while adding 45 hp for a total of 390 hp.
Sounds pretty awesome – we can't wait to drive one. The coil spring suspension sounds good too, but it is interesting to note that Dodge didn't increase the payload or tow rating of the 2009 Ram, despite increasing the power of the 5.7 Hemi substantially. Does this mean Dodge couldn't make the new rear coil suspension any stronger than the old leaf setup? If so, that doesn't speak well of it's towing and hauling ability (especially long term). Again, it's a prototype, so who knows…
Speaking of vehicles we can't wait to drive, check this out: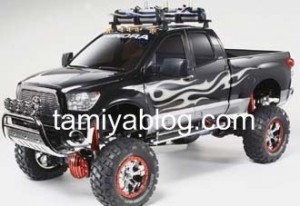 Evidently, a well known radio controlled car company is making an RC version of the 2007 Toyota Tundra DoubleCab. It's been hard to find specifics (like pricing info), but we wouldn't mind taking one around the block and maybe chasing the dog around. Read all about the Tamiya Tundra on TamiyaBlog.com.
Filed Under: Auto News
Comments (1)