Auto News From Around The Web April 23 2008
Jason Lancaster | Apr 23, 2008 | Comments 0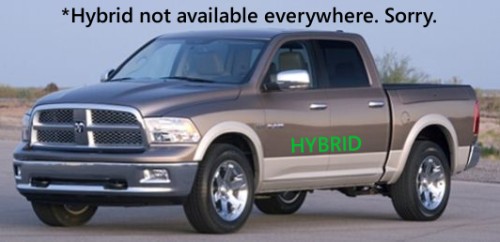 The new Ram hybrid won't be available at all Dodge dealers.
Our recent post about the new Dodge Ram Hybrid got us thinking – what's it going to be like to buy one of these things? According to a recent Automobile Magazine blog post, Chrysler doesn't intend to sell many hybrid versions of the new Aspen/Durango hybrid. They're even trying to limit the number of dealers that can stock the vehicle. The Ram hybrid shouldn't be any different. Imagine going to your local Dodge dealer and being told "Sorry, we don't stock the Ram hybrid. You'll have to go somewhere else." Crazy.
The new big GM hybrid SUV's are off to a terrible start.
Speaking of hybrid vehicles not selling, GM reports they only sold 655 Tahoe/Yukon Hybrids in the 1st quarter since they began advertising the vehicle. Looks like consumers aren't falling all over themselves to spend $50,500+ on a hybrid SUV that gets 21/22 mpg.
Here's a new one – federal lawmakers are considering regulating how loud vehicles can be. Here's the catch – they're talking about setting minimum noise levels. Read all about it on the Prius Owners Group blog.
Anyone else think fancy new alloys are nifty? Jason Lancaster our admin (and also holder of an engineering degree), thought this news about a new superalloy called Crutonite that can be used to make high strength exhaust valves was nothing short of awesome. What a dork…
Finally, from the "news that will surprise no one" department, truck sales dropped 31% industry wide in March. Of course, Tundra sales increased more than 8% during the same period. Next time someone tells you a Ford, GM, or Dodge truck is better than the Tundra, you can share that little gem with them…
Shout out to 3XA.net – they've got a nice collection of Tundra pdf's available for free download, along with some cool links. Definitely check it out.
Filed Under: Auto News
Comments (0)